Q&A with BuzzFeed's Arielle Calderon: "You need to take risks and experiment"
Photo cred: Macey Foronda/BuzzFeed
Everyone and their mother wants to know what it's like to work at BuzzFeed, not only for their awesome GIFs, but to know what makes their articles go "viral." Well, here it is. We emailed back and forth with BuzzFeed's very own Arielle Calderon. Prior to working at BuzzFeed, she was on the in-house marketing/social media team for Denny's and made a name for herself on social.
Now Arielle is writing stories with big hits, like The Difference Between Freshman Year And Senior Year In College, 27 Life Hacks Every Girl Should Know About, and more. As if that wasn't enough, she also runs the What Should We Call Social Media blog and Twitter feed. She gave us insights on her job, running social for a big name brand, and even her favorite GIF. Beware, this post may cause extreme job envy.
Muck Rack: How do you decide what content will create a so-called viral post? Is there any way to really know?
Arielle Calderon: If I've learned anything from this job, it's that you can't always predict virality. The best you can do is take note of online and cultural trends and create posts you believe will continue to drive the conversation. It's also vital you bring something fresh to the table, such as a new post format or capitalizing on an identity readers can relate to. People visit BuzzFeed for information, but they're also looking for content to make them laugh or feel good and it's important you cater to the audience!
MR: Having helped run Denny's social media and blog, which was seen as a huge success, what would you say the key is to having a successful online presence?

AC: I think the key is to study the behaviors of your fans on various online platforms and produce content accordingly. For instance, what works for Denny's on Tumblr wouldn't fit as well on Twitter or Facebook. People come to each social network with a different purpose and you need to find out what it is. You need to take risks and experiment with content, tone, and language to figure out what people respond best to. People want to interact with a personality, not a robot.
MR: How does working for in-house editorial work and marketing differ from what you do now?
AC: I do more storytelling now than I did when working in social, and I also have a much larger audience. In marketing, you have a very clear goal of what you're trying to achieve and you write with a business perspective in mind. BuzzFeed is all about experimentation and creating new goals as internet culture changes.
MR: What social media tool can you not live without? Why?
AC: It's hard for me to imagine a workday without my Tweetdeck dashboard, so I'm going with Twitter. It's a quick source of info, a great tool for discovering content, and I can chat and joke with online and real-life friends. Eliminate parody accounts and it's all I really need.
MR: What article or blog post are you most proud of? Why?
AC: I'm most proud of 14 Books To Read Before They Hit The Big Screen because it's an article I would naturally click on and save for later use. I really enjoy posts that have longevity to it and it's a personal goal of mine to actually read all these books on this list before watching the films. Also, my book club was especially grateful for this post!

MR: What's it like working at BuzzFeed?
AC: The culture is unlike any ad agency I've worked at. Everyone is energetic and friendly, and above all else, just as obsessed with the internet as I am. I don't even feel like I'm going to work — I'm just making fun content for people to enjoy.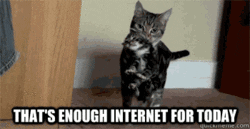 MR: What's the best advice you've ever been given? Why?
AC: "Sometimes you need to fail to succeed." I'm a firm believer that we learn from our mistakes and we shouldn't be discounted for making them. Not everything we do will be perfect but that shouldn't limit our potential to do better.
MR: What brands are doing the best job on marketing right now?
AC: I think Taco Bell is the brand to be right now. Not only is their Twitter account funny and interactive, they're also exploring other platforms such as Snapchat. They know their audience and they don't restrict themselves to being prim and proper just because they're a corporate company.
MR: Most importantly, what's your favorite GIF?
AC: There's too many to choose from! But I'm a big fan of Lil Bub so I enjoy this particular GIF.