Global politics in the headlines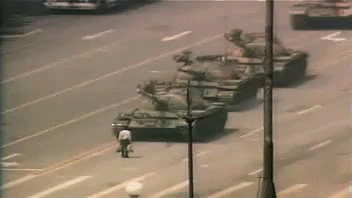 As we noted yesterday, it's the 25th anniversary this week of the events at China's Tiananmen Square, and this unforgettable image from that day is still being shared. "Zooming out on the famous Tank Man photo, taken 25 years ago today, makes it even more impressive," remarked research analyst Logan Dobson, and his words were retweeted many times.
Meanwhile, The New York Times reports that the European Central Bank has taken a radical step. Richard Stevenson there explains, "European Central Bank acts against threat of deflation, cuts key rate and will charge to hold deposits." Here's the introductory statement to that press conference, as well as Wall Street Journal's up-to-date coverage on the rates and policy decision.