Journalism is still not a crime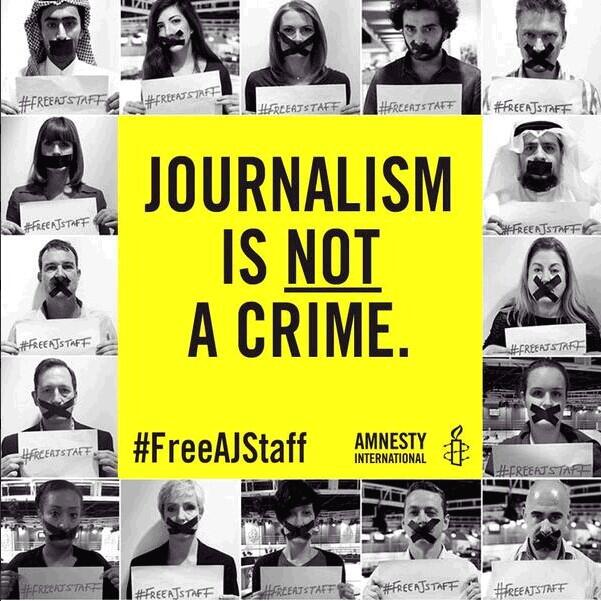 The mantra "Journalism Is Not a Crime" along with the hashtag #FreeAJStaff floods Twitter once again as Egyptian courts handed down their verdict (shared at least 53 times so far by journalists, but with 2,079 shares total). "After convictions/jail sentences for 3 Al Jazeera journalists in #Egypt, this sums up view of many," Mashable's Jim Roberts explained.
Here's Al Jazeera's story on the jailing of their own journalists (3,900 shares and counting), detailing the verdict delivered on the fates of Peter Greste, Mohamed Fahmy and Baher Mohamed. "Shock as Egyptian court sentences 2 @AlJazeera reporters to 7 yrs in jail, another to 10 on the flimsiest evidence," reacted Wall Street Journal's Vanessa Mock. In the Al Jazeera English newsroom, Matt East shared this twitpic, captioning, "The AJ family and global community continue to stand united in support of our 3 colleagues wrongly jailed." Similarly, at Channel 4, broadcasters chose to express their solidarity in this way.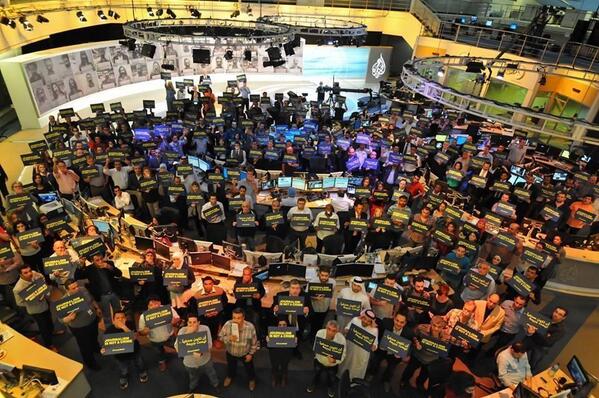 BBC News was also on that story, reporting that British Prime Minister David Cameron is "appalled" by the verdict (934 shares), while The Guardian further elucidated the grim details (3,083 shares). A New York Times piece noted the verdict came only a day after US Secretary of State John Kerry visited Cairo "in a show of renewed partnership" with the government of President Abdel Fattah el-Sisi (1,878 shares). At USA Today, Carmen Gentile minced no words, tweeting, "Egypt is being a real stubborn dick about this. Imprisoning journalists is the hallmark of an asshole state." Evan Vucci with the Associated Press voiced similar sentiments: "A dark day for journalism."
To compound this image of grief, a video of Greste's parents learning the news is also making the rounds on Twitter (6,737 shares). "Heartbreaking and enraging," BBC's Nick Bryant summarized after watching.