Your go-to roundup on Iraq
A massive ISIS execution site has been located, according to Human Rights Watch (1,225 shares). At NBW News, Ayman Mohyeldin filled in the blanks: "Photo & Satellite data strongly indicates ISIS conducted mass executions in Tikrit after seizing it on 6/11." The analysis indicates that ISIS may have killed between 160 and 190 men wearing what appeared to be civilian clothing.
But redrawn lines are seen as no cure in Iraq conflict, the New York Times informs readers (754 shares). "While Obama loudly urges Iraqi sects to unite, Pentagon quietly hints it could live with division, says @robertfworth," explains colleague Eric Owles.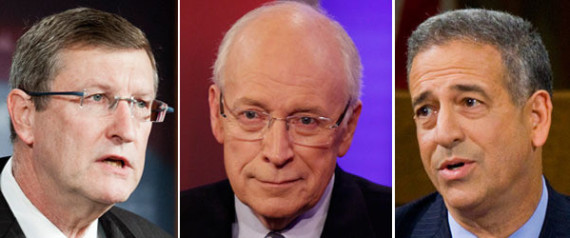 Finally, Huffington Post's Michael Calderone and Sam Stein join forces to make the case that if you've made a reputation for yourself as an Iraq war critic, you're probably not being asked to go on TV right now (3,480 shares). "'Cheney, Wolfowitz, Bremer and Bill Kristol have made 16 TV appearances in less than 2wks.' Cable news: You're gross," denounced Dan Murphy at the Christian Science Monitor.
(Images via Human Rights Watch, Huffington Post)