Political scoops of the day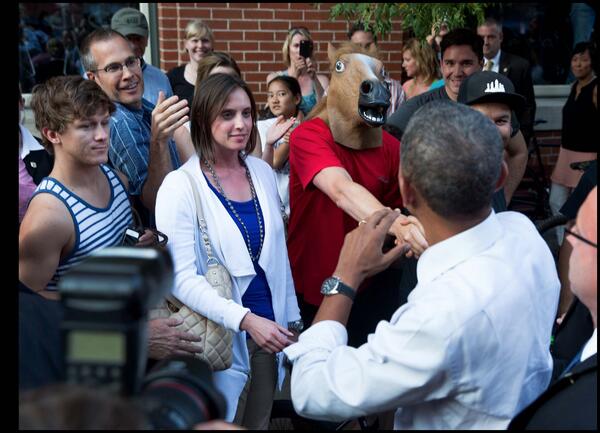 Obama got a bit of a surprise in Denver, where he was greeted by a man wearing a ... horse head? (344 social shares and 845 retweets). New York Magazine's Stefan Becket tried to imagine how this all went down: "'Wanna go see the president?' 'Yeah, definitely. Just let me grab my horse head mask.'" At 9News Denver, Kyle Clark grumbled, "This is how President Obama will remember us. Thanks, horse head guy." Sam Hartle with 41 Action News Kansas City may have had the best response, though: "Neighsayer?"
In more serious news, Glenn Greenwald at First Look Media invites us to meet the Muslim-American leaders the FBI and NSA have been spying on (10,169 shares). Al Jazeera America's Azmat Khan shared this especially distasteful part: "In the place where the target's real name would go, the memo offers a fake name placeholder: 'Mohammed Raghead'."
Speaking of espionage, the Germany spying case somehow left Obama in dark, the New York Times reveals. "When Obama & Merkel spoke last week, 1 was aware a German official had admitted passing secrets to CIA. Guess which," Europe editor Richard Stevenson quizzed. How awkward.