Perusing the press
According to New York Magazine, here's Tech's Most Powerful Snoop: Re/code's Kara Swisher. At Business Insider, Alyson Shontell pointed out, "Opening sentence: 'The technology journalist Kara Swisher likes to call herself Sherlock Homo.'"
Plus, this should surprise nearly no one: Poynter's Andrew Beaujon tells us the newspaper reporter just made the "endangered jobs" list (658 shares). Paul Wiecek with the Winnipeg Free Press concluded, "Pandas, whooping cranes and newspaper reporters: Things that are officially 'endangered'..."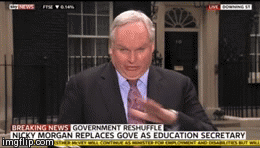 Plus, Sky News political supremo Adam Boulton swallowed a fly live on air (776 shares). So there's that.
And finally, here's a Soundcloud recording that's taking a turn around the Twittersphere: the exchange between a husband and wife trying to disconnect their Comcast service and a service rep (7,415 shares). You really have to hear it to believe it. "Listen to what happened when @Veronica and @ryan tried to cancel their Comcast service. I'm almost speechless," Sam Gustin admitted at VICE.