Reporting regrets and other media news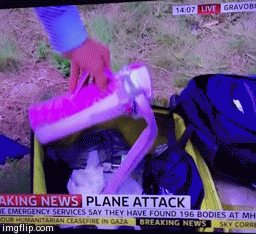 After rifling on-air through a MH 17 passenger's suitcase and going viral on Vine in the process, Sky News journalist Colin Brazier has offered a heartfelt apology in the form of this Guardian piece (4,096 shares). "Honest and remorseful piece by Sky News anchor who was not alone in handling MH17 belongings," Matt Wells pointed out at Guardian US.
In the US, The Washington Post just debuted Storyline. "This looks like a very promising new story/data vehicle," decided Barton Gellman there. Here's the official welcome from Jim Tankersley (140 shares). "First up: How to crowdfund a pregnancy," colleague Michelle Gaps previewed.
And while it's been deleted from Twitter finally, we feel it our duty to tell you that the Environmental Protection Agency's Twitter account posted this tweet and left it up there for hours: "I'm now a C-List celebrity in Kim Kardashian: Hollywood. Come join me and become famous too by playing on iPhone!" All this prompted Buzzfeed's Benny Johnson to conclude, "Fact that this @EPAwater tweet has been up for over an hour shows how non-responsive government bureaucracies are."