Latest in tragedies
New York Times' Anne Barnard continues to churn out illuminative if upsetting updates on Gaza, now reporting that Hamas gambled on war as its woes grew in Gaza (which has earned 3,433 shares so far). Buzzfeed's Sheera Frenkel cautioned, "If you don't read this article from @ABarnardNYT in Gaza, you are missing half the story."
At the same time, the Washington Post just published a powerful letter from Israelis who want no part in the war: "We are Israeli reservists. We refuse to serve" is the title (475 shares). Journalist Anna Lekas Miller further detailed, "Israeli journalist & activist @yaelevenor calls out IDF stranglehold on Israeli society & petitions others to refuse."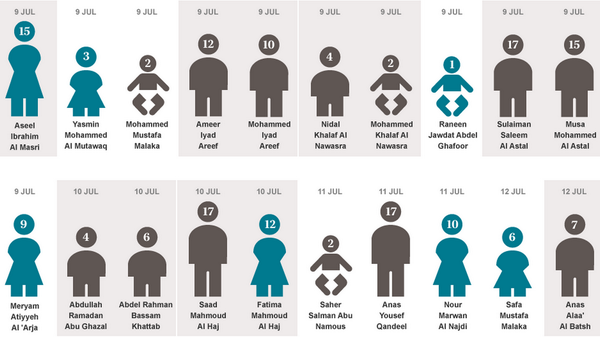 Meanwhile, The Telegraph published and twitpic'd a discomfiting illustration: under the caption "Revealed - names and ages of 132 Palestinian children killed in Gaza" (217 shares). "One child every hour is now being killed in #Gaza," Alun McDonald pointed out.
Moving over to MH17, the Associated Press reveals that the US government reports no evidence of any direct Russian link to the plane (3,560 shares). Although as political blogger Greg Sargent shared, "US intel says Russia 'created the conditions' for downing of #MH17 by arming separatists." Which then begs the question posed by Buzzfeed's Kate Nocera: "How is arming separatists not like, an enormous link."
Wrapping up on a somber note, we also need to share with you the AP's heartrending coverage on the last hours of MH17's victims (488 shares). "If you read one story about the lives of those on #MH17, I believe it should be this one from @AP," Ted Anthony recommended there.