Spotlight newsroom: Quartz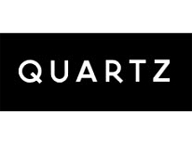 Today we're delighted to be taking a look at Quartz, the business news publication of the Atlantic Media Company first launched in 2012. The most highly followed journalist there is Dan Frommer, Tech Editor, followed by Zach Seward, Senior Editor; Matt Phillips, Markets and Finance Editor; Bobby Ghosh, Managing Editor; Kevin Delaney, Editor in Chief; and Heather Timmons, Asia Correspondent. Meanwhile, that newsroom's most active journalist on Twitter at the moment is Annalisa Merelli, Reporter, while today's highest trending article is "What fonts tell us about the global economics of the internet" (with 110 shares) by reporter Nikhil Sonnad. Looks like a good read!
You'll find Muck Rack's complete list of verified media outlets here. If you don't see your news outlet listed, and you think it should be, let us know!