We ain't never had a friend like him
In news that was nothing short of devastating, yesterday we learned that beloved comedian and timeless jester Robin Williams had been found dead at age 63, and, to compound the dolor of this news, that he had died in an apparent suicide. The Marin County Sheriff's Office named asphyxiation as the cause of death.
After shock subsided, the tributes began pouring forth. For the New York Times, A.O. Scott called Williams an improvisational genius, forever present in the moment (16,422 shares). The LA Times put out an interactive titled The Many Faces of Robin Williams (9,273 shares). Not to be outdone by the media, fans spontaneously turned the "Good Will Hunting" bench into a memorial, Buzzfeed reports (46,254 shares).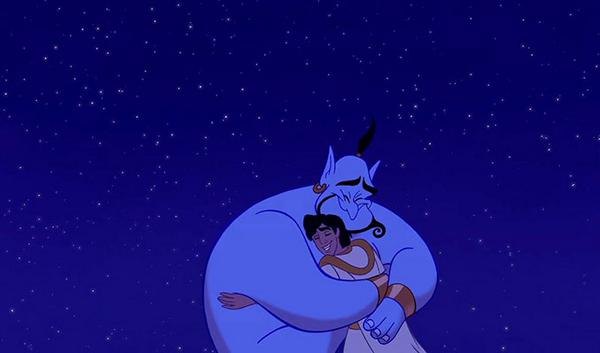 Several noteworthy individuals paid their respects as well. "He was one of a kind," President Barack Obama honored him in a (notably rare) official statement (641 shares). "He arrived in our lives as an alien - but he ended up touching every element of the human spirit," Obama writes, referring to Williams' otherwordly, breakout role in Mork & Mindy. The Academy posted a single, tear-jerker twitpic: "Genie, you're free." (67,513 shares) Sesame Street posted a picture, too, captioning, "We mourn the loss of our friend Robin Williams, who always made us laugh and smile." (6,669 shares).
His final post to Twitter, an Instagram picture of his daughter in honor of her recent 25th birthday, was furiously re-posted all over social media (31,216 shares). The tears didn't stop flowing, either, when daughter Zelda tweeted an image of a quote, adding, "I love you. I miss you. I'll try to keep looking up. Z." (13,147 shares) After all, as BBC's Mark Frankel noted, "His last tweet was about her." Recent costar Sarah Michelle Gellar, too, shared a commemorative collage (1,116 shares).
Just as fellow thespian Philip Seymour Hoffman's death reignited a discussion of drug abuse, Williams' passing understandably has reopened the discussion on depression and suicide. Suicide is "a risk even for beloved characters like Williams," USA Today reports (9,129 shares). For journalists, especially, this tragedy further underscores the importance of covering suicide responsibly (2,092 shares).
To the man who inspired us both on and off the screen, this legend who made us laugh and cry -- we salute you, our captain.