Ferguson dominates the headlines here and abroad
A national hotbutton issue has just heated up even further, beginning with a McDonald's in Ferguson, Missouri, where Washington Post's Wesley Lowery and Huffington Post's Ryan J. Reilly had hunkered down to work between interviews. That was when Reilly shared this twitpic: "SWAT just invade McDonald's where I'm working/recharging. Asked for ID when I took photo." (330 shares) What happened next could perhaps be best summarized in this tweet from Lowery: "6 hours ago Ryan Reilly introduced himself to me in a McDonalds. Then we ended up in jail. Wonder what he's got planned for our second date."
Lowery and Reilly were indeed both arrested in that Ferguson McDonald's after half a dozen police officers reportedly came into the restaurant (23,433 shares). Mark Berman writes, "Lowery was directed to leave through one door, and then told to go through another, at which point his bag fell off of his shoulder. ... He was trying to make it clear he was not resisting arrest, but it did not appear the officers believed him." Bloomberg's Caroline Chen responds, "When journalists are arrested for 'trespassing' at a McD's and filing police, something's gone really bad." We're inclined to think that's a fair assessment.
Lowery offers his own personal account (and garnering a whopping 51,128 shares as of this moment) as well as accompanying video. "That was when I was most afraid — more afraid than of the tear gas and rubber bullets," he writes. "As they took me into custody, the officers slammed me into a soda machine, at one point setting off the Coke dispenser. They put plastic cuffs on me, then they led me out the door." Colleague Steven Ginsburg shares, "always, but moreso tonight, proud to work with @WesleyLowery, for @PostBaron and at The Washington Post."
Read WaPo executive editor Marty Baron's full statement on Lowery's arrest here (443 shares). All the way over in Australia, a user alerts us, "Hey #Ferguson, you've made the front page of Australian news. #TheWorldisWatching." (833 retweets) The headline reads, "LAND OF THE FREE? Insane situation in the U.S. right now."
In the wake of said madness, The Verge reminds us that you do have a right to record the police (13,270 shares). "I think it's helpful to point out that everyone has the right to record police, but I wish the police got the message," Kevin Loria tweets wistfully at Business Insider.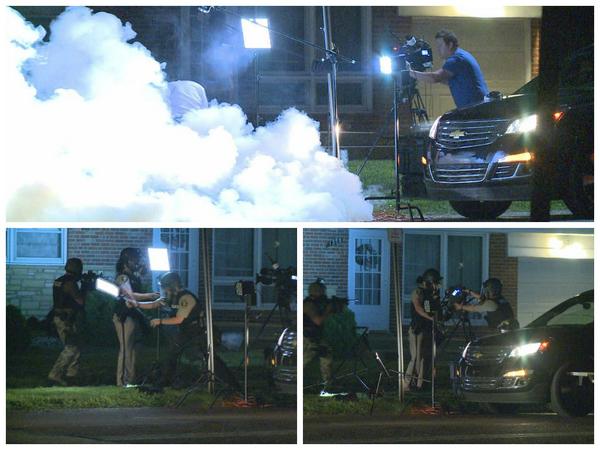 Meanwhile, elsewhere in Ferguson, Al Jazeera reporters were fleeing teargas (3,130 shares). "Gassing the press probably isn't a good PR move," Kevin Ely surmises. At KSDK News Channel 5 St. Louis, Cassidy Moody posts twitpics: "Police fire tear gas near Al Jazeera crew, then disassemble the gear after they flee." (2,061 shares) In addition, disturbing images popped up all over Twitter like this one or this one. "Not Egypt, not Syria, not Turkey, not Iraq. #Ferguson, Missouri, USA," Twitter user Crypt0nymous reminds everyone.
You can listen now to I am Mike Brown Live from Ferguson, MO (with 97,181 shares and counting).