#Ferguson takes a turn for the worse again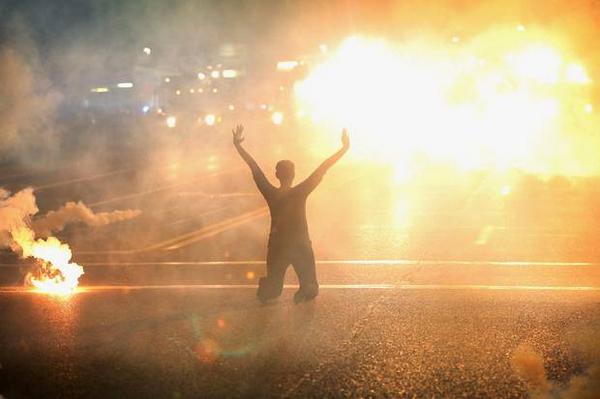 Friday seemed to have brought refreshing changes to Ferguson, Missouri, but after another weekend of increased tensions and clashes, Amnesty International has just sent a team within the US for the first time (4,445 shares) as Missouri's governor deploys the National Guard to Ferguson (3,440 shares). Quoting from the former piece, which also references Ezell Ford's shooting death in Los Angeles, freelance journalist Jess Zimmerman shares, "'However police say that Ford was trying to grab one of their guns' do they just think black men are octopi or what?" NYT's Julie Bosman summarizes, "Today in #Ferguson: more gunshots and tear gas. School canceled. National Guard moving in." Here's the executive order by Gov. Jay Nixon (3,871 shares), as well as Buzzfeed's take on Amnesty's "unprecedented" U.S. action (which has collected an impressive 23,300 shares).
In other big news, the New York Times reveals that an autopsy shows Michael Brown was struck at least 6 times, twice in the head, but not in the back (garnering an even more staggering 109,803 shares in the process). "Not in the back, appearing to contradict an eyewitness," Nick Pistor points out at St. Louis Post-Dispatch. Still, LA Daily News' Jack Wang reacts, "SIX TIMES. In the front, from a distance." Meanwhile, Pat McGonigle at News Channel 5 St. Louis notes, "3rd autopsy on #MikeBrown ordered. 2nd autopsy, conducted by man who worked on JFK autopsy."
Also at the NY Times, David Carr reflects how the view of #Ferguson has thrust Michael Brown shooting to national attention (2,498 shares). Freelancer Ellen Maguire reacts, "Ferguson ---> #Ferguson. Smart piece from @carr2n on Twitter as 'a heat map and a window.'" At the Washington Post, Abby Phillip reports that Ferguson police have arrested and threatened more journalists (289 shares). And speaking of media, VICE is now live on the ground in Ferguson (8,031 shares). "Vice journalist is really trying to engage these cops. With humor and grace," observes freelance journalist Jason Fagone.
At Vox, Todd VanDerWerff declares that an uproarious, moving John Oliver is perfect on Ferguson (2,661 shares). "If it's Monday, it's 'JOHN OLIVER DESTROYS X' headline day," Wall Street Journal's Steven Perlberg wryly observed. Also at WSJ, Tom Gara mused, "Good to see Vox's auto-embed John Oliver script is working. But he didn't slay or destroy anyone? Nothing was nailed?" Considerably less humorous and much more disturbing: this Getty image of a woman allegedly getting treated with McDonald's milk after getting hit with tear gas. "Hard to see, but important," concludes Sunny Dhillon with the Globe and Mail.