In a Ferguson state of mind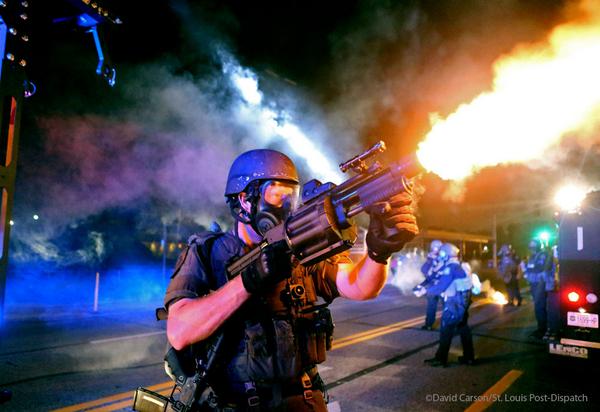 The St. Louis Post-Dispatch has published a stunning front page photo depicting the latest state of things in Ferguson (254 shares, 2,001 retweets). Post-Dispatch director of photography Lynden Steele first shared it, tweeting, "This is what tear gas being fired looks like in #ferguson Pic by @pdpj 4 @stltoday." Jon Williams with ABC News reflects, "Incredible photo on front page of @stltoday - like something out of sci-fi not streets of America" (557 retweets).
At TIME, Trayvon Martin's mother reflects on Michael Brown and Ferguson (23,464 shares). "Honor your son and his life, not the circumstances of his alleged transgressions. I have always said that Trayvon was not perfect. But no one will ever convince me that my son deserved to be stalked and murdered. No one can convince you that Michael deserved to be executed. But know this: neither of their lives shall be in vain," Sybrina Fulton writes. "What a read," reacts Washington Post's Wesley Lowery.
Meanwhile, the media arrests continue. A Getty Images photographer was taken away in handcuffs (623 shares). "Getty veteran Scott Olsen arrested in Ferguson, for the horrible crime of ????" Vox's Max Fisher wants to know. The Intercept's Ryan Devereaux, too, was detained while covering Ferguson protests (1,343 shares). "How many reporters is that now?" wonders freelance journalist Rania Khalek. Meanwhile, arrest records aren't just on the rise in Ferguson, but everywhere in America, WSJ reveals (983 shares).
With all of this going on, you might wonder when President Barack Obama will be giving the impassioned speech we've all been expecting from him. But here's Vox's Ezra Klein with why Obama won't give the Ferguson speech his supporters want (7,788 shares). "The cost of becoming president was sacrificing the unique gift that made him president," Klein explains. Elsewhere in politics, more fuel was added to the fire: someone at the CSIS think tank apparently took issue with Amnesty International's recent take on things in Ferguson and therefore tweeted at Amnesty to "suck it" (287 retweets). "I'm sure the CSIS social media intern is already in trouble for this, but I can't stop laughing," admits Aaron Mehta at Defense News.
From Buzzfeed, here's what it was like in the streets on Ferguson's worst night (5,963 shares). In the meantime, VICE is still live from Ferguson and the Washington Post is providing live updates as well.