Fallout from Foley's death
From New York Times' Rukmini Callimachi we learn that ISIS pressed for a ransom before killing Jim Foley (864 shares). "A chilling piece by @rcallimachi on America's policy of not paying ransoms to terrorists and #JamesFoley," reflects Neha Thirani Bagri at the Times. Quoting from the article, Politico's Edward-Isaac Dovere tweets, "The US — unlike several European countries that have funneled millions .. [to ISIL for hostages] — refused to pay." New York Magazine's Kevin Roose bleakly observes, "This whole thing is chilling, but the last paragraph, dear god." In another NYT post, it's revealed that U.S. commandos tried to rescue Foley and other hostages earlier this summer, but found none (5,616 shares). "Wow. What could have been," colleague Ben Hubbard laments.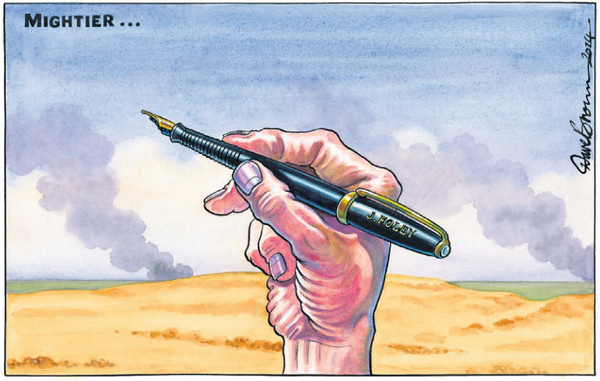 In honor of Foley's sacrifice and heroism, there was this cartoon just published (65 shares). "Dave Brown's cartoon in tomorrow's Independent, on the death of James Foley, is perfect," declares Archie Bland there. Simultaneously, the NY Times delves even deeper, analyzing how from arrests to beheadings, conflict reporting takes a harsh toll on journalists (1,658 shares).
Meanwhile, Buzzfeed compiles a sobering list of photographers we've lost in conflict zones (26,663 shares). Editor-in-chief Ben Smith calls it a "Gorgeous, sad collection of photographers who died in conflict zones in recent years, and their work."
Ridiculously enough, Huffington Post UK unveiled what two British Jihadis bought before leaving to join ISIS in Syria: "Koran for dummies" and "Islam for dummies." (2,755 shares). "This is a really excellent piece by @mehdirhasan on radicalisation and why it has nothing to do with Islam," Evan Bartlett concludes at The Independent.