More facets to the Ferguson issue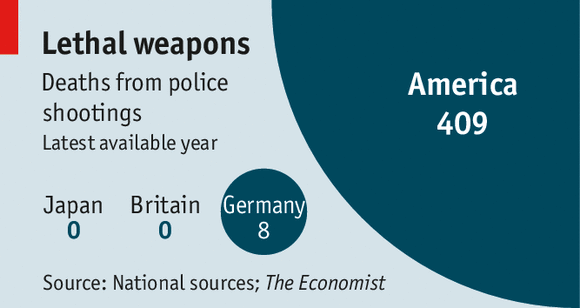 The Economist has posted some damning statistics on police shootings in the U.S. while observing that Ferguson police have demonstrated how not to quell a riot (12,901 shares). Per data from the "latest available year," the U.S. boasts 409 deaths from police shootings, compared with only 8 in Germany and 0 in Britain and Japan for the same year. "We're No. 1!" Gardner Selby tries to find the silver lining at the Austin American-Statesman. "Britain and Japan are such bad shots!" jokes user Alan Clarke. This is one first-place award that won't be going in anyone's trophy case.
Then LA Times' Matt Pearce decided to gift us with a Ferguson feature on a very special fast food restaurant (525 shares). "I wrote about McDonald's. Yes, that McDonald's," Pearce tweets. "If you read @mattdpearce's story on the #Ferguson McDonald's to the end, you will not regret it," colleague Julie Westfall promises. Huffington Post's Ethan Klapper also shared what he considered the best detail in the whole article. Click on it, if you're a Don Lemon fan.
The NYT explains that the protests are stirring a range of emotions and a lot of perplexity among ... white people (1,173 shares). "Oh God NYT headlines," groans Rhodri Jones at Channel 4 News. "Perplexity, that's what's being stirred up," Buzzfeed's Adrian Carrasquillo tweets, sounding unconvinced. The Verge's Arielle Duhaime-Ross concludes, "If you read this article and you still think that racism isn't alive & well in the US… then I can't help you."
Plus, kudos to photographer Scott Olson, who managed to shoot both Businessweek's and Time's amazing covers this week (1,368 shares) somewhere in between getting arrested for doing his job. And farewell to freelancer Ryan Schuessler, who just explained why he will not be returning to Ferguson (22,535 shares). "I recognize the irony in that post, calling out others for making #Ferguson about them. Willing to be a hypocrite to point all this out," Schuessler admits on Twitter, later adding, "It saddens me that the most widely-circulated thing Ive written about #Ferguson is this blog post. Much more important things to think about."
For remaining journalists in Ferguson, however, CJR urges you to know your rights (68 shares).