Leading ledes of the day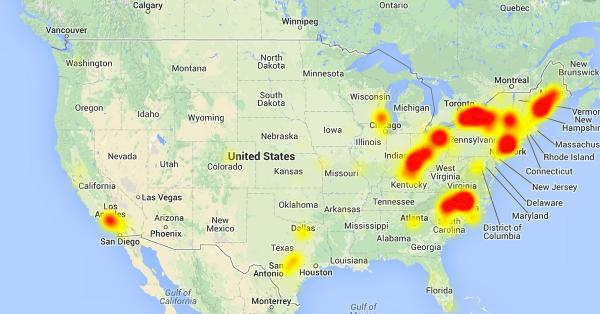 We apologize for the delay in today's Muck Rack Daily, but we were suffering from the same plight as many of you: Time Warner Cable's massive outage (1,578 shares). "This is what the Time Warner broadband outage looks like," Mashable's Jim Roberts tweets. Business Insider also had that story (7,148 shares), as did Brian Stelter for CNN Money (1,260 shares). "It's not just *your* Time Warner Internet that sucks. TWC Internet is reportedly down nationwide this morning," BI's Maya Kosoff helpfully points out. As the CNN piece notes, the outage was "more noticeable, because it affected journalists and the people who employ them." This prompted NY1's Jamie Shupak to ask, hopefully. "So.. can we go home?" Freelancer Fran Berkman laments, "Had to move from my cave to the office to complete today's graveyard shift because Time Warner killed the Internet."
Nothing stops the news, though, not even a massive wifi outage. New York governor Andrew Cuomo's Morelandgate cost him an endorsement from the New York Times (5,258 shares). "No endorsement for @NYGovCuomo from @nytimes. And he won't much like the mention for @zephyrteachout either," Matt Seaton predicts at Guardian US. "NYT won't endorse in the race for governor, but sounds awfully sympathetic to Teachout," Capital Tonight's Nick Reisman notices. But Politico's Glenn Thrush scolds, "This seems like a cop out, and precious. Hold your nose and pull the lever like everybody else." Capital New York's Laura Nahmias reacts by tweeting, "Eek! Passionate bile from NYT commenters over non-endorsement: 'The Grey Lady has become lazy, fickle and/or senile.'"
In international news, President Barack Obama is pursuing climate accord in lieu of treaty, Coral Davenport reports for the NY Times (13,305 shares). "Obama has no choice but to steer UN climate talks toward agreement that would not require Senate ratification," Mashable senior climate reporter Andrew Freedman elaborates. "Took long enough, but good to see Obama realizing that the GOP won't help him, even as the world burns. Going solo," TheWrap's Jordan Zakarin tweets. At the same time, the U.S. is mobilizing allies to widen assault on ISIS (2,216 shares). "The War on Isis. Countries likely to be enlisted: Australia, Britain, Jordan, Qatar, Saudi, Turkey & UAE," Jerome Starkey summarizes at The Times.