Weird, but true (and sometimes tragic)
Once our wifi was restored to us, a number of stranges stories waiting in the wings came flooding forward. We had to reread it a few times to believe it wasn't April Fools Day, but it's true: London's The Times has introduced the ambient sound of typewriters to "increase energy levels and help reporters to hit deadlines" (1,953 shares). The new measure has reportedly "caused some bemusement among journalists, one of whom tried unsuccessfully to turn the sound off," The Independent reports. Well, we're not surprised. Some other reporters were charmed: "Adorable: the thwap-thwap of typewriters is piped into The Times newsroom, getting louder as deadline approaches," notes ESPN's Don Van Natta. Then NYT's Eric Asimov retweeted Van Natta, adding wryly, "... drowns out the wiretapping." Jim Romenesko also picked that up (278 shares), which prompted WaPo's Barton Gellman to tweet, "Newsroom management: 'Why don't they just pipe in the noise of screaming tortured souls in hell?'"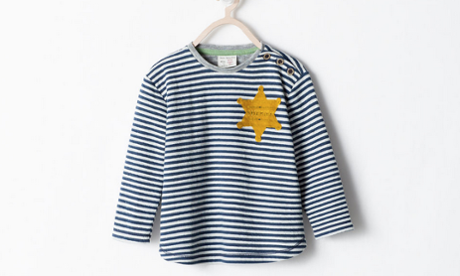 In weirder news, The Guardian reports that high street retailer Zara has removed striped pajamas adorned with a yellow star, following online outrage over its resemblance to Holocaust garb (12,016 shares). It's a baby's pajama top, featuring horizontal stripes and a six-pointed "Sheriff" star, but the word "Sheriff" is not so visible from far away. "Zara forced to remove striped pajamas with yellow star -- CAN'T IMAGINE WHY," HuffPo's Alexander C. Kaufman remarks. Meanwhile, Guardian's Jon Dennis has noticed a pattern: "2014: Zara's Holocaust pyjamas. 2007: Zara's swastika handbag." Get it together, Zara.
Also while your wifi was out, an Indian grandmother slew a leopard in a 30-minute battle, and using a sickle, too! (1,587 shares). "As one does," comes the nod from WSJ's Joe Parkinson. "Indian grandmas are tough," Arjun Kharpal points out at CNBC. Simultaneously, Sopranos creator David Chase finally told Vox what happened in his series' cliffhanger ending ... sorta (1,348 shares). Sounding like an Upworthy headline, The Verge's Dieter Bohn tweets, "Did Tony die at the end of The Sopranos? 1st you think there's a bug in the layout. 2nd you realize it's not. 3rd OMG."
And now for the undeniably tragic: the Post's Elahe Izadi tells the story of the shooting instructor who died after a 9-year-old girl accidentally shot him in the head with an Uzi (6,215 shares). "This incident is tragic," freelance Ido Liven reflects, "but shooting ranges across the US welcome shooters as young as 7."