What else is on our minds?
In the latest installment to the airplane reclining seat saga, New York Times' Josh Barro writes, "Don't Want Me to Recline My Airline Seat? You Can Pay Me" (23,013 shares). With 2,200 comments and counting, it's clear readers and journalists alike are passionate about this subject. Some were fans: "Only way to make this better: there's nothing wrong with reclining your seat and I won't stop even if you pay me," concludes Wonkblog's Matt O'Brien. Others were not: "This is heightist crypto-fascist bullshit masquerading as a free-market Miss Manners column & I WON'T RECLINE FOR IT," WaPo's Dan Zak announces.
Here's something that the entertainment world has awaited for seemingly forever: the Associated Press boasts the scoop that Angelina Jolie and Brad Pitt just wed in Chateau Miraval, France (2,928 shares). Eldest sons Maddox and Pax walked Jolie down the aisle, with Shiloh and Knox serving as ring bearers and Vivienne and Zahara serving as flower girls. "I guess this is where I admit I had no idea Angelie Jolie and Brad Pitt weren't already married," AP's Cara Rubinsky confesses. You'd be forgiven for that, Cara, as they have been together for 9 years, after all.
Plus, USC cornerback Josh Shaw admits to school officials that he lied (7,248 shares). "Impressive: USC's Josh Shaw admits lying after claiming he sustained ankle injuries by saving drowning nephew," Guardian's James Dart remarks.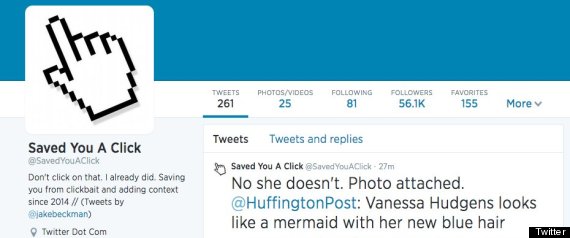 And in other outrage, The Verge's Nilay Patel demands, "Are you proud of yourself, @savedyouaclick?" Jake Beckman, the infamous clickbait-hater who runs the Twitter account @savedyouaclick, apparently took it one step too far when he tweeted the answer to The Vox's question headline "Did Tony die at the end of the Sopranos?" Mother Jones' Ben Dreyfuss tweets (facetiously, we think), "Kill @SavedYouAClick, leave its body in a ditch." Washington Free Beacon's Lachlan Markay rushes to add, "Don't actually do that."