Around the world in headlines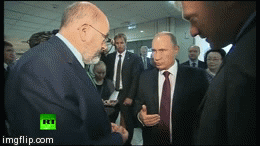 A persistent John Sweeney of the BBC wouldn't back down when Russian president Vladimir Putin tried to ward off his questions (1,365 shares). Putin promised to answer later, but Sweeney wanted answers sooner than that. "Do you regret the killings in Ukraine?" Sweeney can be heard asking in a YouTube video of the encounter. Putin begins his response via a translator: "The essence of the tragedy in Ukraine ..." Independent's Matthew Champion tweets admiringly, "@johnsweeneyroar is up to his old tricks (journalism), door-stepping Vladimir Putin, no less." For a moment, Putin's translator falters, however, leading to what Financial Times' Joseph Cotterill calls a "[r]are, brief snatch of Putin speaking English here."
On the subject of Ukraine, a Ukrainian woman who was held up to public abuse by pro-Russian separatists has been released (1,137 shares). "Woman publicly abused by separatists hugs @nytimes photographer who brought her to world attention. Heart-warming," FT's Jack Farchy reacts. "Happy-ish end to a dark dark story," tweets Guardian Moscow correspondent Shaun Walker.
Knowing all this, which one of our PR readers is ready to take on Putin's Russia as a client? Because Russia's current P.R. firm is now walking a fine line (1,400 shares). "Interesting story that asks: Is a western PR firm representing Russia akin to spinning for a big tobacco company?" Dan Bilefsky summarizes.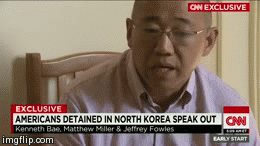 Meanwhile, in another PR nightmare of a country, CNN briefly interviews Americans detained in North Korea (2,294 shares). "Jeffrey Fowle, American detained in #NorthKorea accused of leaving Bible, says situation desperate," interviewer Will Ripley relays. "American #KennethBae tells me his treatment is humane but his health is failing working 8 hours/day, 6 days/week at #NorthKorea labor camp. Matthew Miller: 'I'm going to trial and I will directly be sent to prison. I think this interview is my final chance' for US govt help."
And speaking of detaining, NYT's Charlie Savage reports that a decaying Guantánamo defies closing plans (1,505 shares). "Gitmo, 12 years later: buckling floors, leaky roofs, and doctors unsure how to treat aging inmates," colleague Mark Landler offers his synopsis. "Lots of horrors about Guantanamo in this piece, but the biggest is that it's still open," opines journalist Jillian York. "Obama administration is split on plans to close Guantanamo: State Dept is 'eager,' Pentagon is 'warier'," shares Liam Stack, also at the Times.