Remembering Steven Sotloff
In breaking news that's breaking hearts, we learned yesterday that ISIS was reported to have beheaded a second American, freelance journalist Steven J. Sotloff, whose life was threatened in the last horrific video. CNN reported that the video was ruled authentic, and the reactions began pouring in. "Another vicious & calculated crime, against another innocent," New York Times' C.J. Chivers denounces the news. "Democracies are slow to anger but then relentless. ISIS will pay," Roger Cohen vows, also at the Times. A chilling reminder from their colleague Shreeya Sinha: "At least two other Americans are believed to be held by ISIS."
In the wake of another brutal blow to journalism, we are left to make sense of losing Sotloff. The New Yorker does just that in dissecting The Death of Steven Sotloff (1,741 shares). In it, the author alleges that the "objective of securing an Islamic state is nowhere near as important as killing people." In other words, "ISIS's barbarity is a kind of pornography its adherents find thrilling/gratifying, Dexter Filkins writes," freelance journalist John McQuaid summarizes. Or to put it another way: "ISIS fighters don't kill for political ends. They kill because they get off on it," NYT's Rick Gladstone tweets.
In gentler reflections, however, The Atlantic remembers Sotloff through the stories he told (1,823 shares). One such story making the rounds on Twitter is this 2012 Foreign Policy piece he penned, "From Bread Lines to Front Lines" (1,193 shares). FP Middle East Editor David Kenner shared it, saying, "I will remember Steven Sotloff as a brave and talented reporter. He wrote this from Aleppo for @ForeignPolicy."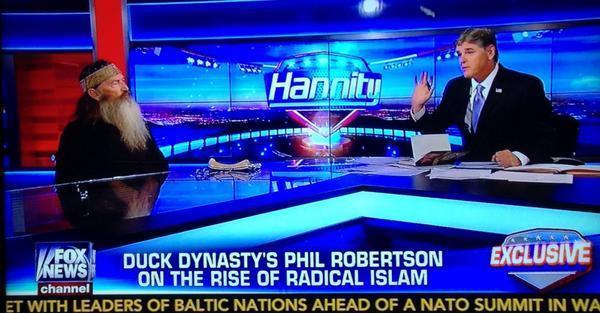 Not everyone is in the mood to mourn, however. A recent Hannity interview of--wait for it--Duck Dynasty's Phil Robertson produced this deft foreign policy advice on ISIS from the reality TV star: "Convert them...or kill them." Buzzfeed's Gregory Johnsen points out, "Yesterday I accused producers of acting like there's a limited pool of FP experts? Well." Journalist Jay Rosen observes, "What makes it extra precious is the 'exclusive' in lower right." And KOSU Radio's Ryan LaCroix pleads, "Will someone please ask Pawn Stars about the economy?"