There's a vote somewhere today?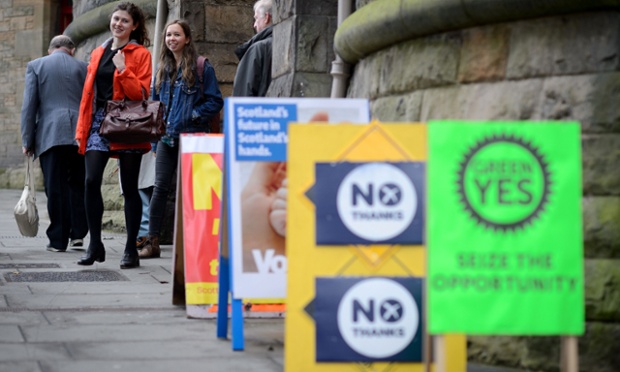 If you've taken up residence under a rock, it might come as news to you that today is D-Day for voting on Scottish independence -- but if you haven't, you'll be glad to know that you can tune in for live updates on referendum polling day, c/o the excellent work of The Guardian (3,375 shares). And that should keep you busy all day long: "Taking a short break from writing @guardian #indyref liveblog; spending it reading@guardian #indyref liveblog," confesses Guardian senior live blogger Claire Phipps. With an incredible 95% claiming they will turn up to vote today, it's clear that whatever the final result, it will be an historic day for Scotland.
As the anticipation builds, feel free to browse all the diffeent referendum day newspaper front pages in pictures (464 shares). "Bit shocked at Mail and of course think ours is best," Guardian's Jane Martinson admits. "I don't know what The Daily Star is but their Scotland cover needs work," Heidi Moore scolds from the Guardian US. As for any non-Brits who may be feeling lost and confused, the Guardian is all over this, too -- because now there's a handy Scottish referendum explained for non-Brits video (with a whopping 26,477 shares at this moment). It's pure genius, and a genuine pleasure to watch: "Non-Brits, here is the animated Scotland explainer you've been waiting for. Contains jokes," journalist Stuart Millar promises. "This is bloomin' ace and v funny. Scottish #indyref explained for non-Brits," Guardian's Alok Jha tweets.
Leave it Wall Street Journal to focus on the cold hard facts, though: If Scotland Splits, What Happens to the Gold? (656 shares). "Also at stake in #indyref: whether Scotland can claim -- and repatriate -- a bunch of gold stored at Bank of England," WSJ's Bruce Orwall explains.