The naes have it after all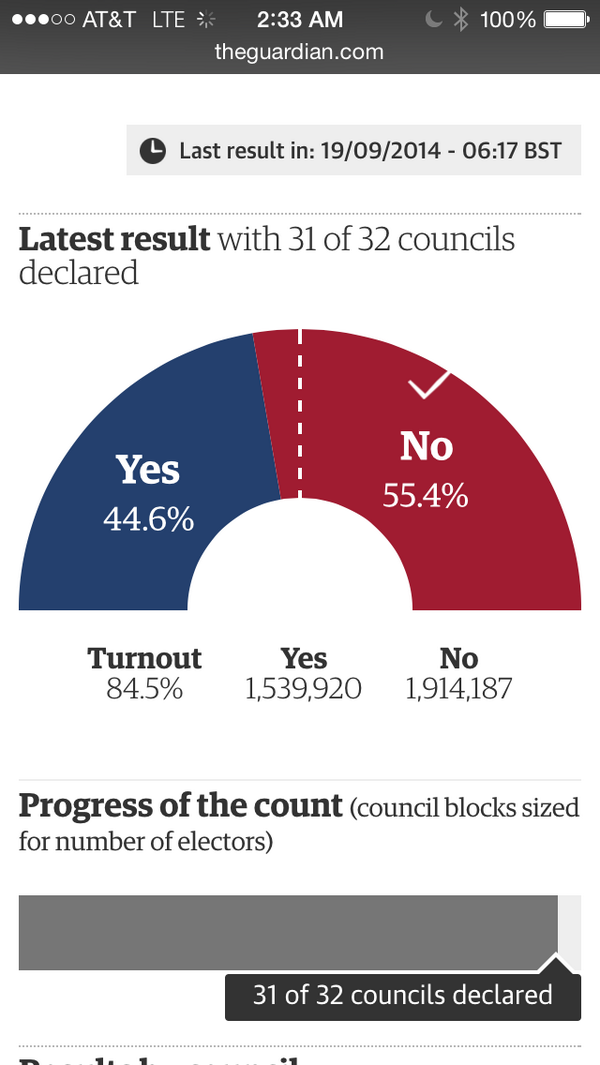 After weeks of anticipation, Scotland has its final answer: No. Or to be more specific, 55.3% voted against independence while 44.7% voted in favor, as of this moment. Of course, we have the Guardian's live blog to thank such up-to-date numbers (15,900 shares)! "Scotland voted no & will remain part of a 307-year-old union with England & Wales," Tech Republic's Alex Howard sums it up nicely. "#Scotland stepped back from the brink of ending the 307-year-old union with #England and #Wales," Reuters' Mehreen Zahra-Malik put it another way. "'A damn close-run thing' First reaction from @martinkettle," editor-in-chief Alan Rusbridger notes. "Getting quite emotional about these pictures wrapping up an incredible night in the Guardian's liveblog," confesses Polly Curtis there.
Here's the results from the BBC, too (65,887 shares). For even more clarity, here's a breakdown on how everyone voted (837 shares). "Teenagers & pensioners a mirror image in risk aversion - who knew?" Nicholas Dunbar reflected at Bloomberg News.
But whatever you do, don't consult CNN for the numbers, because apparently they're having some trouble with math right now (2,604 shares). " At least no matter what Scotland decides, they are giving it 110%," user Brady jokes.