Around the world in one roundup
Trending at the top of today's Muck Rack newsroom is the Wall Street Journal report that China is considering replacing Central Bank head Zhou Xiaochuan (605 shares). "Fixture of Chinese economy, the long-time head of the central bank, may be on his way out," synopsizes Gerald Seib there. His rumored replacement? Guo Shuqing. "Someone write everything they find out about Guo Shuqing now," Sid Verma entreats at Euromoney.com.
Putting everyone to shame, India manages to send an orbiter to Mars on its maiden voyage and a shoestring budget (4,274 shares). "India's trip to Mars, at a price of $74 million, cost less than the Hollywood movie "Gravity," writes @GardinerHarris," New York Times colleague Ellen Barry shares from the article. "An ebullient morning for India, where children came to school at 6:45 a.m. to watch its spacecraft enter Mars orbit."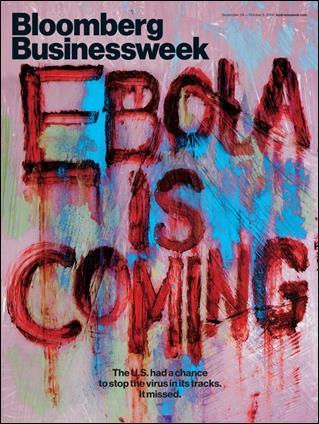 On the other side of the news spectrum,
Bloomberg Businessweek
's
Brendan Greeley
and
Caroline Chen
uncover that the Ebola drug ZMapp's development was delayed by a Pentagon agency, or as their headline deftly puts it, "
How the U.S. Screwed Up in the Fight Against Ebola
" (
681 shares
). "A little-known Pentagon agency had a promising treatment for Ebola — IN 2010 — and failed to act," BW editor
Janet Paskin
laments. BW has a rather
unsettling cover photo
to accompany this revelation, too. "Sober, responsible Businessweek cover," comes the facetious tweet from
Politico
's
Blake Hounshell
. "Such nuance!" chimes in
Washington Post
's
J duLac
.
Plus, here's the
full text
of President Obama's prepared remarks to the
United Nations
General Assembly (
591 shares
), c/o of WaPo. "Wow, Obama's going to invoke Ferguson in his UN address,"
The Atlantic
's
Matt Ford
notes. Meanwhile, the
New York Times
lambasts Obama for his
unconvincing plan in Syria
(
933 shares
) even as the
WSJ
backs him on it
(
25 shares
). "Did I wake up in Bizarro World? WSJ editorial supports Obama on Syria. NYT ed blasts him,"
Mark Dubowitz
remarks from the
Foundation for Defense of Democracies
.