Question of the Day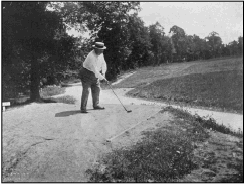 Yesterday's question (with thanks to regular QOTD participant and retired journalist Francis Hinchey for submitting it): Who was the first golfing American president? Well, there's some discrepancy here, so we'll accept multiple answers: President William Howard Taft is considered the first openly admitted golfing president, but President Theodore Roosevelt is suspected to have played golf privately while Warren G. Harding is credited with having helped raise the golfing consciousness of the American public.
Congratulations, again, to Amy B Wang of the Arizona Republic for being the very first to tweet us one of those acceptable answers! Honorable mentions also go out to Claudine Laforce, Dan Rosenbaum, Ken Walker, Carrie Gray, Hiram Reisner, Amy Zipkin, Paul DelColle, Paul Boyd, Michelle Hals and Becky Yerak for getting one of those right, as well.
As for today's question, here it is, with thanks to frequent QOTD participant, journalist and author Margo Howard for submitting it: Which famous newspaper editor is credited with building the careers of both Mike Royko and Ann Landers?
Click here to tweet your answer to @MuckRack. Remember, you must spell your answers correctly to be counted! We'll announce the winners tomorrow!