Trending at the top of our newsroom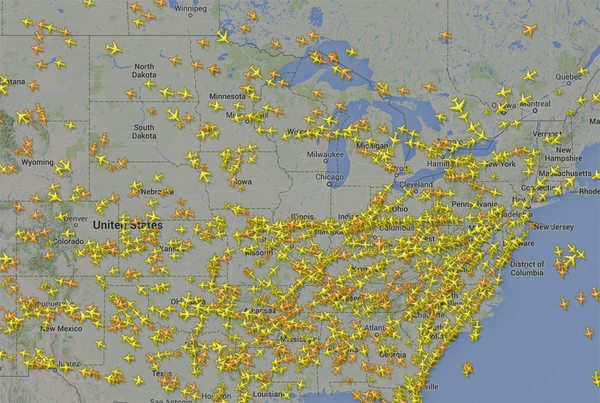 This just in: all flights grounded at Midway, O'Hare as fire crews were called to the radar facility (3,765 shares). Police say the fire at the FAA radar center was deliberately set, but that it's "no terrorist act;" it's being cited as "a local issue with a contract employee & nothing else." At last count, 435 flights were canceled at O'Hare and 395 delayed as of 8:30. Meanwhile at Midway, nearly 100 flights were canceled and nearly 40 delayed. "Pretty wild to see the air-traffic map at the moment," noted Mark Lazerus at the Chicago Sun-Times. "CHICAGO IS LAVA," realizes Alex Fitzpatrick at TIME.
The other story that has everyone talking right now: The Secret Goldman Sachs Tapes (5,821 shares). "Documentary proof that the Fed is Goldman Sachs' beeyotch. Read--and snarl, don't weep," recommends James Gibney at Bloomberg View. ProPublica's Jake Bernstein is causing a stir with his look inside the New York Fed, which analyzes the secret recordings and its culture clash (1,339 shares). "Forget Pimco. Today's most impnt story is @Jake_Bernstein on NYFed going easy on Goldman. Reg capture caught on tape!" Karen Weise tweets.
Oh yes, about Pimco. The other story getting top billing at the moment is bond investor and co-founder Bill Gross's departure from Pimco for Janus (379 shares). "Sorry, fellow commuters, for nearly spitting coffee on you when I saw this," WSJ's Aaron Lucchetti apologizes. "And the Wall Street Journal reports Bill Gross was about to be fired by Pimco before he left," Lee Schafer fills in the blanks at the Minneapolis StarTribune.
And finally, Deadspin's Barry Petchesky declares that Derek Jeter went out the way he deserved (485 shares). "This by @barryap1 is the best (and most thoughtful) piece you'll read on Jeter today," freelance journalist Bill Bradley concludes.