A tale of three news narratives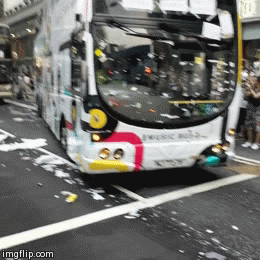 Developments continue in three separate sagas. In Hong Kong, British journalist Tom Grundy reports (and Vined, at left) being hit by an anti-protester as Mongkok buses were removed (661 shares). AFP photojournalist Alex Ogle captures on film a group of men in masks beating up another man who tried to prevent them from removing fences from democracy protest. "This sort of ugly clash has not happened during week-long protests until anti-occupy-ers marched in," former Reuters community manager Carmen Ng notices. Nearby, Washington Post's William Wan tweets a picture of the last gaggle of men suspected of being mainland paid inciters as they are surrounded by heckling pro-student group. "Almost all gone," Wan concludes.
Each time we think we've heard the worst in the Secret Service debacle, the story gets topped again: Bloomberg News' Jonathan Allen reveals that now a bogus congressman managed to get backstage at an Obama event even after the White House intruder fiasco (259 shares). " How unrecognizable are members of Congress?" colleague Michelle Jamrisko pointedly asks.
Finally, BuzzFeed's Alex Campbell takes America's ongoing analysis of its domestic abuse problem in a new direction by uncovering how the law turns battered women into criminals (6,072 shares). Wall Street Journal's Ted Mann seems blown away: "Prosecuting battered women for failing to prevent the murders of their kids. These stories are staggering."