In writ, wit and so much more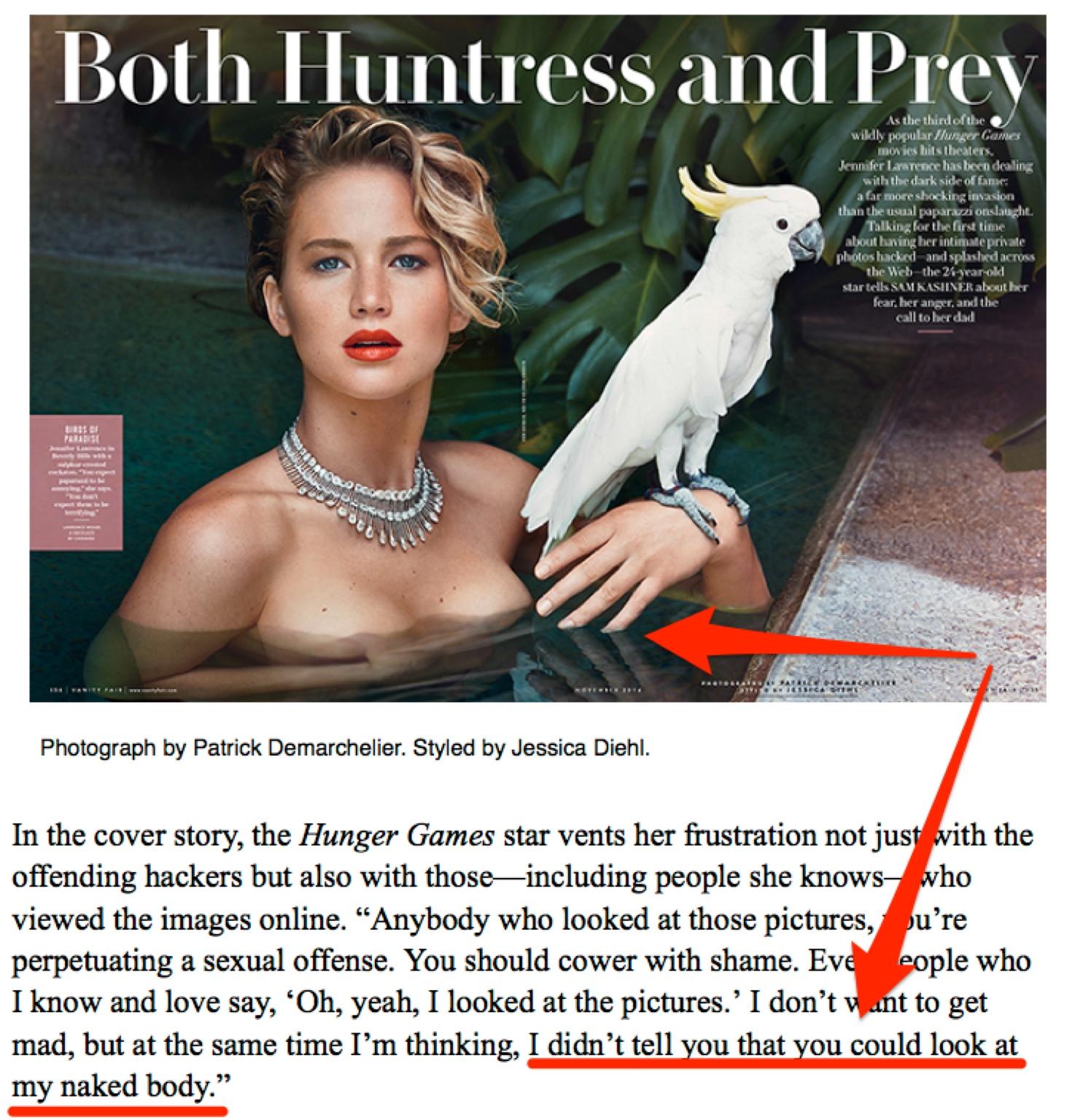 In Vanity Fair, actress Jennifer Lawrence finally speaks out and calls photo hacking a "sex crime" (12,792 shares and counting). "I was just so afraid. I didn't know how this would affect my career," Lawrence is quoted. "Literally too many good quotes to just pull out one," Huffington Post's Christopher Rosen concludes, but let's try anyway, shall we? "I didn't tell you that you could look at my naked body," Lawrence points out, a phrase being repeated and quoted all over Twitter. But Fusion's Felix Salmon initially didn't feel Jen's words jived with her actions. "Thanks for clearing that up, Jennifer," he tweeted, seeing irony in her words when juxtaposed with the accompanying photoshoot. After some Twitter backlash, however, Salmon retreated: "OK, apologies. My bad. Leaving it up for #shame purposes." And we respect that, Mr. Salmon.
In other interviews, NYT's Amy Chozick spoke to Andrew Cuomo, who confided to her, "It Could Not Have Been Worse" (114 shares).
Also filed under confessionals, Kathy Sierra opens up beautifully about trolls and doxxing in trouble at the Koolaid point (7,783 shares). Fusion's Anna Holmes calls it, "A profoundly upsetting piece by @seriouspony on the online abuse directed at women who dare speak their minds."
And making light of CNN's recent bizarre Ebola/ISIS comparison, the New Yorker investigates Ebola: What It Is (6,222 shares). A gem from within: "Some say Ebola is the Milosevic of West Nile virus. Others say Ebola is the Ku Klux Klan of paper cuts."
Finally, in part two of the Reynolds Journalism Institute's ongoing study of Twitter and journalists, study author Alecia Swasy finds that journos are using the platform to build brand, visibility and job opportunities (32 shares). Despite an early reticence to adopt Twitter, most journalists reported getting hooked once they see how Twitter can help expand source lists and, occasionally, land better jobs. And who among us doesn't like all those things?