Headlines that will have you hooked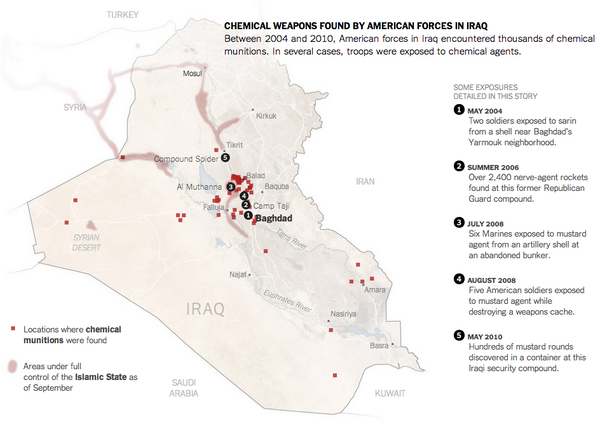 The New York Times' C.J. Chivers boasts a bombshell of a story that reveals U.S. troops actually did find thousands of chemical weapons during the Iraq War. "Wait...WHAT??" WTMJ's Doug Russell does a double take. Here are the secret U.S. casualties of Iraq's abandoned chemical weapons (65,535 shares). "Read this tour de force by @cjchivers, and shiver," colleague Vanessa Friedman recommends. "Yes, we should all pile on the CJ Chivers bandwagon today," Politico's Susan Glasser tweets in agreement. "Let's just make a new medal for soldiers injured due to the idiotic & craven failures of their own govt," suggests Business Insider's Aaron Gell.
Another Ebola test comes back positive in the case of a second Texas health worker (5,898 shares). "Tom Frieden should be fired. The serial screw ups and management lassitude on Ebola is a national disgrace," journalist Tina Brown concludes. It's enough to make nurses slam the Texas hospital for a lack of Ebola protocol, CNN reports (18,050 shares).
In Hong Kong, video emerges of what appears to be Hong Kong police beating a handcuffed #OccupyCentral protester under cover of darkness (42,221 shares), which in turn has delivered another blow to public trust there. "This footage is going viral in Hong Kong," WP's Edward Wong shares from Beijing, adding, "Astonishing that Hong Kong police did this beating without spotting videographer. Or they didn't care." Based in Hong Kong, Wall Street Journal's Henry Williams seems shocked by the transformation: "Just a month ago, the Hong Kong Police had a great reputation. And now: beating a protester, in uniform, on camera."
And in bad news for Alison Lundergan Grimes, the DSCC is no longer running ads against Mitch McConnell, Roll Call announces (1,411 shares). "After spending $2 million in KY, the DSCC pulls its ads, an unkind cut for @AlisonForKY," NYT's Trip Gabriel observes. "DSCC seems to be spending to keep McConnell minority leader, rather than ousting him," Niels Lesniewski muses, also at Roll Call. Peter Hamby with CNN points out it "will make for fun stories if Grimes loses by 1-2 points."