Lou Dubois trades roles at NBC family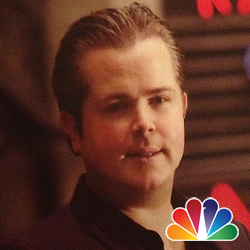 NBCUniversal just welcomed Lou Dubois as Executive Director, Digital Content on the NBCU corporate communications team, where he'll now oversee new and existing digital projects. Through last week, Dubois was the senior editor of social and emerging media at NBC News.
"After 2+ amazing years, today is my final day @nbcnews. Thanks to all who made every day so memorable," he tweeted last week, hinting that he would still be in the peacock family. And now we know: "Day 1 in my new role @NBCUniversal. I'll be overseeing some new and existing corporate digital projects. Excited to get started!" he later added.
"Sad to see such a talent leave the nest, but he's still a peacock!" colleague Josh Belzman reasoned.
"Wishing @dubois best of luck in his fancy new gig - so well deserved," Cassandra Vinograd chimed in from London. "@NBCNews will miss you but NBC Universal is gaining a star!!"
Don't forget - if you change your job in journalism or move to a different news organization, be sure to email Kirsten (kirsten [at] sawhorsemedia [dot] com) so we can reflect your new title. News job changes only, please! Thanks!