Speaking strictly of China ...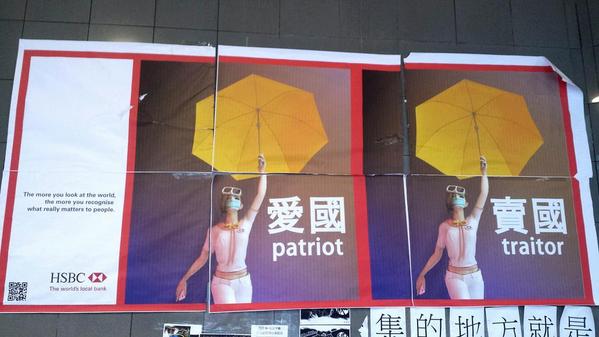 In new images out of Hong Kong, journalist Rachel Roh shares a photo of war photog Paula Bronstein being taken into custody by Hong Kong police while covering clashes Friday night/Saturday morning in Mong Kok district, as well as a screenshot from an uncredentialed smartphone videographer's live stream of his own alleged beat-down. The protests are as much about dollars as democracy, argues Wall Street Journal's Kathy Chu in a recent post (1,300 shares). Also for WSJ, Bob Davis takes note that China's growth has been slowing sharply over the decade (524 shares). Elsewhere in HK, a fake HSBC ad is quickly gaining popularity.
In the meantime, Beijing marathon runners were forced to don face masks to battle severe smog (843 shares). Some of the runners just completely gave up, and who could blame them? "Sorry to have missed #beijingmarathon. Will smoke three packs of Marlboros instead to compensate," VOA's Steve Herman snarks.
And while we're still talking China, this was also trending in our newsroom: CCTV News' handy tips for Chinese choosing an English name. "State media to Chinese picking English names: 'If you call yourself Satan,' foreigners may deem you 'anti-Christian'," Fast Company's Jeff Chu cherrypicks a prime sample.