The press's playbook for Monday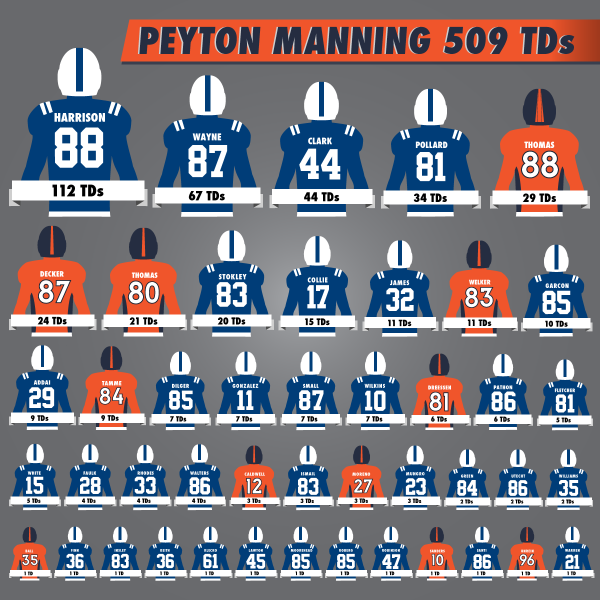 Yesterday it was announced that Peyton Manning was nearing a touchdown passing record, and what do you know, he did it. To celebrate, enjoy this viral vine of the Broncos playing keep away with Manning's record setting ball (14,589 shares and counting). "I've never liked Peyton more," Benjamin Standiga admits after watching. The NFL also showed us exactly what 509 TDs look like.
GamerGate is trending again in the Muck Rack newsroom, but before we share today's boosted post, we feel compelled to add the disclaimer that MR's trending algorithm is entirely journalist-based; in other words, the Daily fills you in on the stories that are popular with reporters that day, which may not always be the same posts that are popular with the public. And for the record, the majority of journalists just don't seem to be very big fans of the Gamergate movement, which might explain why a reddit retort from one journalist (whose coverage initially was not very well received by Gamergaters) is trending so very high this morning. At 2,258 shares, Jesse Singal's reply has actually received more attention than the original offending post (which got 129 shares). Gamer John Funk observes, "Boston Globe journalist gets told he's not seeing the 'real' GamerGate, goes to KiA, eviscerates them." Advertising Age digital and tech reporter Tim Peterson calls it, "GamerGate gets mic dropped."
Sad news from the BBC: British presenter and actress Lynda Bellingham has died at age 66. Best known for her longterm role as the mother in the Oxo TV advertisements, Bellingham had been fighting the good fight against colon cancer since July 2013. She was beloved by many: "Oh no, Oxo mum Lynda Bellingham has died," Engadget's Matt Brian mournfully tweets.
... which is juxtaposed with some happy news from the BBC: the due date is officially April for The Duke and Duchess of Cambridge (844 shares).
For The New Republic, former syndicated columnist and author Margo Howard writes that (mostly anonymous) trolls from Amazon's elite reviewing club sabotaged her book (1,925 shares).
Finally, Columbia Journalism Review discusses what it's like covering a closed-off candidate (88 shares).