Oh, Canada, you have our admiration
"The clown circus that is cable news in the US could learn something from Canada," suggests the publication Mother Jones, and they just might have a point. In the wake of news that a soldier was shot and Parliament was on lockdown after gunfire erupted at an Ottawa war memorial, and just two days after a Canadian soldier was deliberately killed by a vehicle, the rest of us watched with bated breath to see how Canada would handle what American media were already widely labeling "The Day 'Canada Lost Its Innocence'." Turns out it was better than we usually do.
"After the attack, we're still Canada," The Globe and Mail reminds everyone (earning 9,813 shares in the process, as of this moment):
We do not yet know to what extent the two incidents are connected. We do not know if they were in any way planned in concert, or to any degree directed from overseas. What appears far more likely is that they are connected only by a thin thread of ideology: a pseudo-religion that dreams of purification through violence, and whose only commandments are death, death and death ... There will be questions about whether Canada needs to change. And yet, we kind of like Canada the way it is. We suspect that you do too.
After reading, Southwest Journal columnist David Brauer in Minneapolis concludes, "Gosh, I love Canada." This the nearby Canadian consulate retweeted, adding, "Thanks. We do, too."
American media couldn't help but take note. "Canada's Coverage of the Ottawa Shootings Put American Cable News to Shame," James West writes (garnering a whopping 76,341 shares). "I should have watched Canadian news," realizes Imran Khan with Al Jazeera English. At Mediabistro, Mark Joyella came to the same conclusion, opining, "Canada's CBC News Shows What Thoughtful Breaking News Coverage Really Looks Like" (earning an astounding 38,632 shares). LA Times' Bret Israel asks, "remember intelligent TV news? Today on #CBC: It wasn't loud and urgent. It was quiet and somber. It felt proper." At NBC News, Jake Heller responds, "YES. @petermansbridge and @CBCNews get their well-deserved due. This is why CBC is a national treasure."
There were other exemplary moments. In a first-hand account, Globe and Mail's Josh Wingrove revealed the scene inside the attack in the Hall of Honour (367 shares). Sheldon Alberts gives Wingrove the nod: "Good reporting starts w/ good instincts: 'I pulled out my BlackBerry, started recording ...'" There was raw video, too (although it's since been made private). An image was passed around of Kevin Vickers, Sergeant at Arms, patrolling the halls of Parliament with his revolver in hand, only moments after the shooting.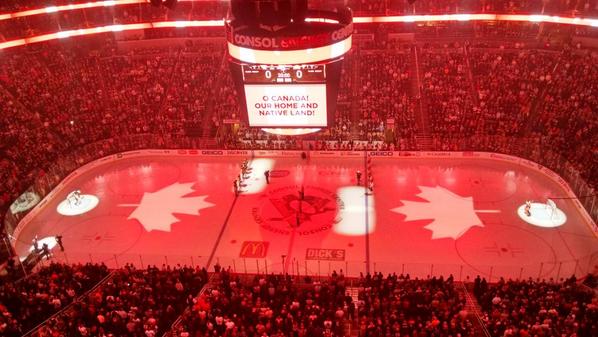 Nevertheless, there were moving displays of support for our northern neighbors. Despite no Canadian team playing last night, the Pittsburgh Penguins opened their hockey game with the anthem "O Canada" as a show of respect (14,327 shares). "Some things are bigger than hockey," the team's account tweeted.