Question of the Day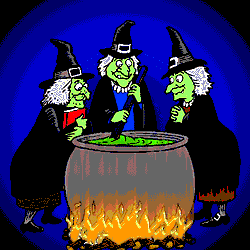 In honor of Halloween and with thanks to Francis Hinchey for suggesting it, Friday's question asked: Name at least three "poison'd entrails" that the three witches added to the cauldron according to bard William Shakespeare? Here's some of the things you could have answered: toad, fillet of a fenny snake, eye of newt, toe of frog, wool of bat, tongue of dog, Adder's fork, blind-worm's sting, lizard's leg, howlet's wing, scale of dragon, tooth of wolf, ravin'd salt-sea shark, root of hemlock, gall of goat, slips of yew ... whew! You get the idea. There were a lot of options.
Congratulations to Brianne O'Donnell for being the very first to answer (with four ingredients, no less! An over-achiever!). Honorable mentions also go out to Edward Tenner, Amy Zipkin, Dan Rosenbaum (who jokes that "Emeril adds cayenne, but it's optional"), Carrie Gray, Bonny Betancourt, Hollywood Highlands, Margo Howard, Paul Boyd, and Osiris for diligently scouring the Bard's play for prime ingredients. Hope all of your Halloweens were great!
As for today's question, here it is: Which superstar singer just pulled all of her songs from Spotify?
Click here to tweet your answer to @MuckRack. Please include the word "answer" in your reply! And remember, you must spell your answers correctly to be counted. We'll announce the winners tomorrow!