Trending at the top of the hour
"White House throws Hagel under the bus," BuzzFeed political reporter Rosie Gray summarizes the latest New York Times bombshell that Defense Secretary Chuck Hagel is said to be stepping down as defense chief under pressure (news that's earned 7,839 shares and rising). Josh Rogin of Bloomberg View and CNN put it even more descriptively: "The White House threw Hagel under the bus then ran over him with the bus and then backed up and ran over him again." Sworn into office less than a year ago, Hagel's dismissal signals "the first cabinet-level casualty of the collapse of President Obama's Democratic majority in the Senate," the scoop's author Helene Cooper suggests. NYT's Edward Wong finds the reasons conflicting: "People say Hagel is blamed for 1) policy failures and 2) not being part of inner circle making policy. Which is it?" More importantly, though, Wall Street Journal's Nick Timiraos points out, "Hagel resigns bc 'different kind of skills' needed. The kicker raises the question: what kind?"
In a powerful confessional, David Carr calls out Bill Cosby's media enablers, "including myself" (1,000+ shares). Carr writes that during a 2011 Q&A with Cosby, he "never found the space or the time to ask him why so many women accused him of drugging and then assaulting them." TIME's Claire Howorth notices, "'those in the know' whom @carr2n mentions glazing over Cosby allegations were all men." Taking it further, MSNBC's Jamil Smith wants to know, "Has any event prompted male writers to admit shame quite like the Cosby rape allegations? No shade, honest question."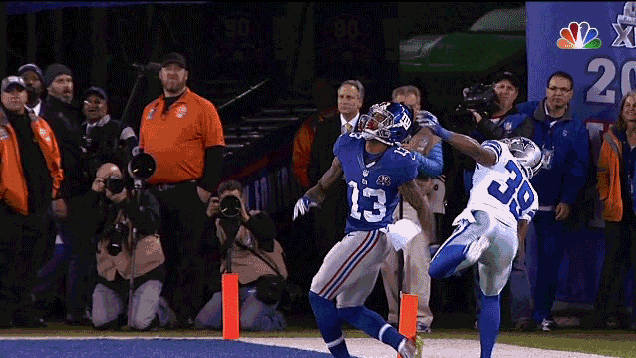 Until the Hagel news came down the wire, this was going to be our top story: New York Giants' wide receiver Odell Beckham, Jr. making the "circus catch of the year" for a touchdown (with a whopping 18,800+ shares). "Even for a job the title of which is basically 'catcher,' this is impressive," posits Philip Bump at The Fix. Plus, Beckham's been doing this since college. "Odell Beckham better get his flu shot, 'cause he's catching EVERYTHING," jokes Alex Fitzpatrick with TIME.
In news you must read to believe, a Syrian activist claims he planned to behead an ISIS fighter, BuzzFeed's Mike Giglio reports. You're going to want to read that one to the end. Relatedly, Rand Paul is pushing for a formal declaration of war against ISIS.