Ferguson on fire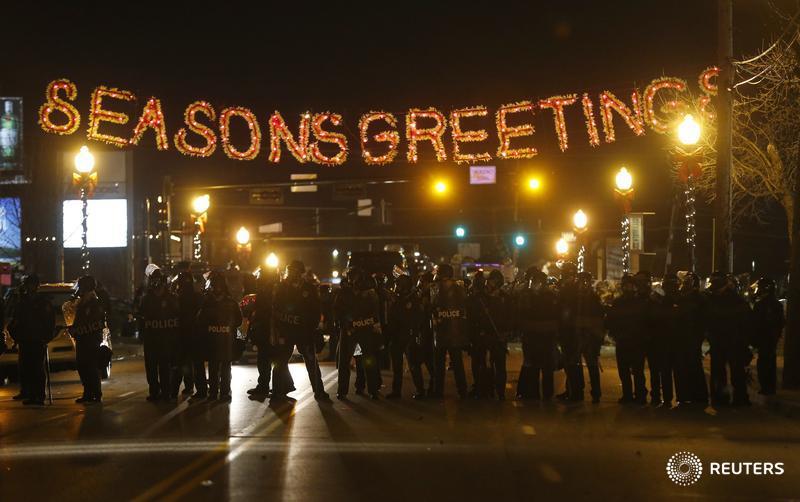 "Heartbreaking: Aerial @AP video of #Ferguson burning, Washington Post's David Beard tweets, referring to this footage. Immediate reactions to last night's grand jury grand jury decision to not indict Officer Darren Wilson were swift and, in some cases, furious. Paul Hampel with the St. Louis Post-Dispatch shared a vine of the Ferguson Market's owner standing in the wreckage of his store (all of Hampel's vines are powerful, really, and worth your perusal). Another vine revealed protestors smashing a police car to pieces. VICE put out a livefeed from the streets of Ferguson. One image in particular from Reuters seemed to capture the strange juxtaposition taking place. "Not a movie. Insane," The Verge's Nilay Patel reacts. Nor were the protests limited to Missouri: Heidi Moore with Guardian US found herself splattered by some fake blood that was thrown at New York police commissioner Bill Bratton. In D.C., crowds gathered to chant "Hands up, don't shoot" in front of the Supreme Court building.
As the smoke clears, protests seem to be growing progressively more peaceful. Clergy sing "This little light of mine" as others chant "Whose streets? Our streets!" More live updates from the New York Times can be found here and from the Washington Post here.
Fivethirtyeight's Ben Casselman points out that it's incredibly rare for a grand jury to do what Ferguson's just did (a revelation that collected 73,000+ shares). "Fed grand juries refused to indict in just 11 of 162000 cases ... So you can 'indict a ham sandwich' but not in #Ferguson," further elucidates Indira Lakshmanan with Bloomberg News. At the Washington Post, Philip Bump was impressed enough by those odds that he offered a visualization of that rarity (4,724 shares). "Grand juries, at the federal level, almost always indict. Except in cop shootings," explains social affairs writer Rick Morton with The Australian. For Quartz, Tim Fernholz told a similar story: US cops who kill are rarely indicted.
USA Today initially reported on the grand jury's decision citing Michael Brown's family as a source. Yamiche Alcindor there reports that, when the news reached Brown's mother, she screamed and sobbed. Once indictment was clear, Officer Darren Wilson's lawyer released a letter to his supporters reacting to the decision. Although as Barry Petchesky with Deadspin points out, "It's entirely possible that Darren Wilson 'followed his training,' which is kind of the problem." Brown's family, too, released a statement through their lawyer, which included a plea for peaceful responses: "While we understand that many others share our pain, we ask that you channel your frustration in ways that will make a positive change."
Shortly after the decision was announced, President Obama delivered a statement urging calm (1,900+ shares). "Anger of #Ferguson 'understandable reaction' &urges peaceful reax, cites Brown's parents' wishes," summarizes Washington correspondent Michael Lindenberger for the Dallas Morning News, adding "President Obama says broader context necessary to see role past racial discrimination has made trust difficult." Wall Street Journal's Aparna Mukherjee comments, "Weird how the white noise of helicopters circling Ferguson feels ... better than hearing more talk."
For those who want to better understand how the grand jury reached this conclusion, St. Louis Public Radio has meticulously uploaded the evidence and testimony considered here (with 11,000+ shares so far). Photos showing Wilson after the shooting were of particular interest. The station tweets, "We're making notes (yellow boxes in docs) of the released evidence. Spot something interesting? Tell us."
All the while, Russian media is gleefully taunting the American government over the turmoil, BuzzFeed's Max Seddon reports. "Like ISIS fanboys, Russia is also enthusiastically trolling the U.S. over Ferguson," colleague Mike Giglio remarks.