Another Monday media mash-up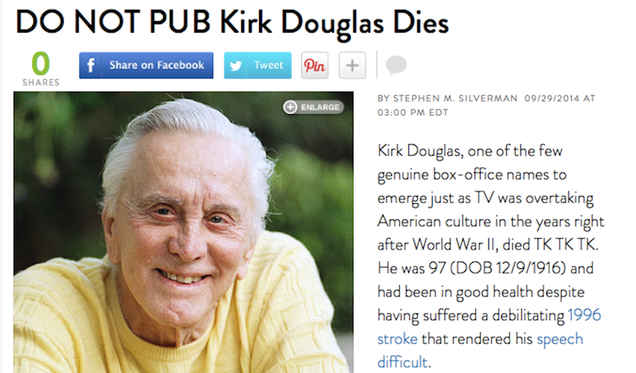 At the NY Times, David Carr has hit another home run with his column on when the forces of disruption hit home (2,359 shares). "On the eve of another NYT buyout deadline, @carr2n on 'doing some disrupting from within'," CNN's Brian Stelter takes note.
Yes, this really happened--People Magazine mistakenly published a pre-written Kirk Douglas obit, even though Douglas is still very much alive and even though the original slug read "DO NOT PUB." It's finally been taken down, but the publication took its sweet time to do so. "The nightmare I have every single time I pre-write anything," admits Vanity Fair's Katey Rich.
Bloomberg News writes on the torch being passed to a new generation of right-wing media. "It's true what a lot of new right media says about left media: a lot of preaching to the choir," NYT's Michael Roston reflects.
Other things we just learned: Vox Media is valued at nearly $400 million after investment. Capital New York's Joe Pompeo takes stock of newsroom head counts. And a veteran journo who worked with Stephen Glass questions whether that wave-making Rolling Stone story on the UVA rapes is really true. Daily Intelligencer's Marin Cogan does not agree with this line of questioning: "There are UVa truthers, because of course."