Another answer of "no indictment"
"If you choke someone to death on camera, it's okay as long as you're a cop," concludes James Downie, after news broke that there would be no charges in the Eric Garner chokehold case for the accused officer (news that earned an astonishing 20,257 shares). If you're the last person on earth to see the video, it's here: "Watching Eric Garner say 'I can't breathe' is nightmarish, but we have a duty to watch it, I think," recommends New York Magazine's Jonathan Chait. Moments later, The New York Times let loose a withering editorial demanding a new inquiry on Garner's death: "The imbalance between Mr. Garner's fate and his supposed infraction is grotesque and outrageous." The New York Daily News was in on this, too, calling the jury's decision a "gross miscarriage of justice."
Yet here we are, all the same. Garner's last words echoed all over the country, especially in New York City, where protestors chanted "I Can't Breathe" in voices of fury and despair. The officer in question told the jury he meant no harm to Eric Garner, that his "choke-hold" was meant to be a wrestling move, and that he thought Garner's ability to speak indicated he could indeed breathe. NY Times Binyamin Appelbaum makes the grim observation, "As to the value of body cameras, 'Officer Pantaleo told the grand jurors that he was aware he was being videotaped'." And here's a real wake-up call: "While the police officer who fatally choked #EricGarner was not indicted, the man who filmed his death was," Manuel Valdes of the Associated Press reminds us. The New Yorker's Silvia Killingsworth declares it "Kafkaesque."
There was also this powerful editorial cartoon on the justice system and Eric Garner (5,562 shares).
Looking at the bigger picture, NYT further investigates fatal police encounters in New York City while BuzzFeed explains why grand juries don't punish cops when they kill. For Slate, Joshua Keating explores the question many of us are actually wondering right now: "How would we cover the decision not to indict a police officer if it happened in another country?" Playing along, Slatest's Ben Mathis-Lilley tweets, "troubling. will the United Nations intervene?"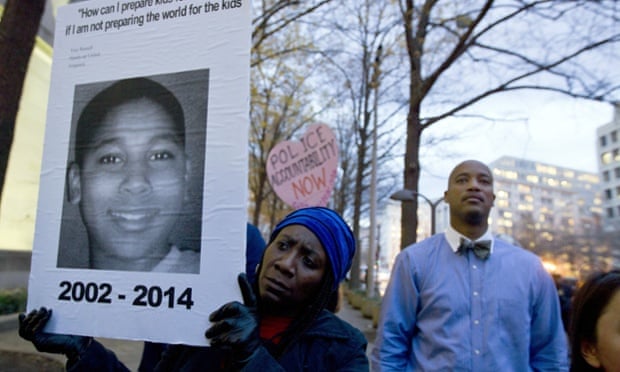 Perhaps one of the most exhausting realizations, however, is that the Tamir Rice investigation is only just beginning. We learn that the officer who shot the 12-year-old boy was judged unfit for duty in 2012, had "dismal" handgun performance and was described as emotionally unstable and "dismal" with a firearm. "Given how hard it is to fire a cop, pretty alarming the one who shot Tamir Rice nearly got fired from prior PD," remarks Josh Barro of MSNBC and NYT. "'He could not follow simple instructions' - so they made him a cop," incredulously tweets Washington Post's Wesley Lowery. Plus, for some reason, the St. Louis Police thought it would be a good idea to post this "helpful" thought on the Tamir Rice situation.
While all of this is going on, Chris Rock once again lays down the law, but this time in a post for The Hollywood Reporter called "It's a White Industry." It ought to be required reading.