The incredible imploding New Republic
"The New Republic wipeout had its own Red Wedding – yikes," reacts BuzzFeed's Sapna Maheshwari, in the wake of news that owner Chris "Facebook prince" Hughes and CEO Guy Vidra effectively "purged" two top editors ... and in doing so have triggered a mass exodus of talent. Among the deeply disliked disruption: turning TNR into a "digital media company" and relocating to Manhattan, which meant losing top editor Frank Foer as well as Leon Wieseltier (the latter a TNR veteran since the early 80s). What Washington Post's Ishaan Tharoor thought of Hughes and Vidra's vision: "Beyond a farce, actually. The most garish caricature of nonsense tech psychobabble." Linda Stern with Reuters concludes, "What's playing out at @TNR is at every journalism org. You can't profit on long, serious, deeply reported content."
So here's The Daily Beast's clever but painful look inside the destruction of a 100-year-old magazine (454 shares). The Daily Freeman's Ivan Lajara has just one quibble: "Nitpicking, but if you want to illustrate the Red Wedding in @tnr piece, you shouldn't photoshop Hughes as Joffrey." Okay, noted, but the rest is pretty apt. "At least the king in the Red Wedding had the balls to stab everyone in person," points out Ryan Lizza of the New Yorker and CNN. Plus, the New York Times uncovers more creepy details that include laptop petting. Good lap top. Good.
The list of resignations this morning is stunning. "Does anyone still work at The New Republic?" wonders Huffington Post media reporter Michael Calderone. His counterpart at Politico Dylan Byers writes more in-depth on the rolling implosion of a Washington institution. One recent resignee, contributing editor Jonathan Chait, penned a eulogy for his now former place of employment (2,605 shares). "Foer isn't leaving TNR bec. he wasn't a good enough editor. He's leaving because Hughes is not a good enough owner," Chait writes. Seriously, people are even resigning on Twitter, which means everyone has been morbidly sharing TNR's incredible shrinking masthead. "I'm told our top story on newrepublic.com tonight is this," dryly tweets Julia Ioffe, who also resigned via this FB post that's well worth your time.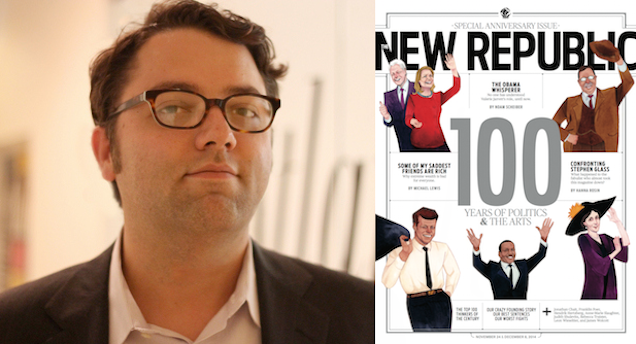 So who's left? Well, the newly appointed editor-in-chief Gabriel Snyder, for one. And seeing as Snyder was once editor of Gawker, that gives their senior editor Leah Finnegan the opportunity to write "White Men Upset Wrong White Man Placed in Charge of White-Man Magazine." The Awl's Matt Buchanan chimes in, "I've not seen this many white men upset about something since obama got elected."
Vox's Ezra Klein also enters the fray to opine, "Even the liberal New Republic needs to change." MSNBC's Steve Benen reflects, "I'm deeply relieved that @ezraklein doesn't know what a 'vertically integrated digital media company' is, either."