Everything on the Sydney hostage crisis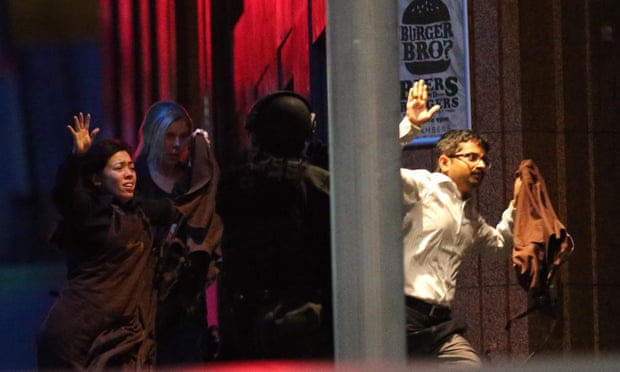 "And I'm now officially done with @Uber, which is price gouging during AU hostage crisis. What sad sorry clowns," tweets Seth Mnookin in the wake of another Uber PR disaster: briefly charging downtown Sydney users a minimum $100 to flee an armed hostage crisis, reportedly the result of "automatic surge pricing meant to get more drivers online" (13,000+ shares). Not a good look, Uber. Will Carroll with Bleacher Report reacts, "This company couldn't get any worse if they tried." The company has since backpedaled on the practice, now offering rides for free to people attempting to flee the area, but the damage is done. "This is an evil company," journalist Charles Jaco remains convinced.
This remains a developing story, but here are some of the latest facts offered: Police are saying the crisis is "over" but have not confirmed the status of the hostage taker. Loud bangs have been heard and police confirm live ammunition has been used. Some hostages have been removed from the scene on stretchers with unconfirmed reports of four hostages being injured. Reportedly a bomb disposal robot has gone into the building. The Guardian Australia is diligently liveblogging the ordeal throughout everything (30,800+ shares and counting), revealing breaking news as the first five people fled from the Sydney cafe and as an Islamic flag was reportedly flown from the window. ESPN's Valerio Veo advises, "For some cool heads in a crisis - I recommend following @GuardianAus for #martinplace rolling coverage." The BBC is also offering live coverage of the Sydney cafe siege.
The gunman has been identified as 50-year-old Man Haron Monis. "The man behind Sydney's hostage crisis: a self-proclaimed sheik on bail for accessory to murder and sexual assault," details National Post's Richard Warnica. "Reading this bio of Sydney hostage taker, he comes across as less of a hardened radical, more of an idiot," concludes Paul Harris with Al Jazeera America. Nevertheless, Australians saw fit to show solidarity with Muslims amid the Sydney siege by offering to travel to work with people in Islamic religious attire using the #IllRideWithYou hashtag (30,000+ shares). "What an incredibly intelligent, generous, wise, beautiful response to terror and all its sponsors," marvels Middle East correspondent Paula Schmitt.
Meanwhile, the Lindt Chocolate Cafe offered thanks on Facebook for "thoughts and kind support" during the tense situation unfolding at their Martins Place location.