Today's question of the day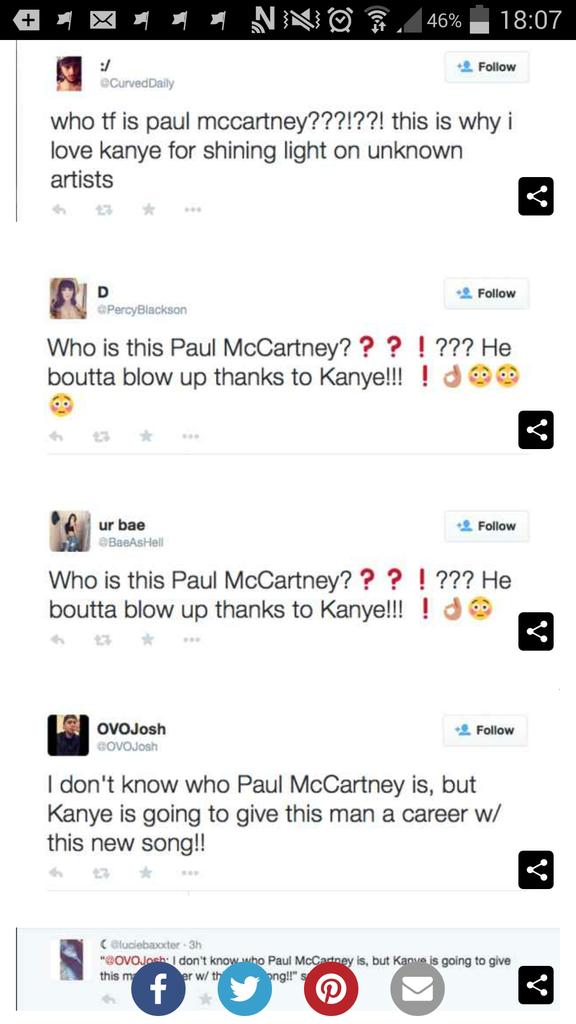 Yesterday's question asked: ​Which "new artist" recently partnered with rapper Kanye West for a musical collaboration? We use that phrase sarcastically, of course--because the artist was Paul McCartney--but this was a name that not all of Kanye's fans appeared to recognize.
Congratulations to Craig Pittman of the Tampa Bay Times for being the very first to get that one right! Honorable mentions go out to Lauren Tellman, Lori Nash Byron, Jeanne Kirk, Jennifer Mascia (who called him by his nickname, "Macca"), Claudine Laforce, Liz Seegert, Jeffrey Dvorkin, Alva Lewis (who adds "I hope he can launch his career. Too bad he's too old for American Idol"), Ken Walker, Battelle, @.l.interpretations (who notes "Sidenote to the shipwrecked souls who don't know who Paul is: #IWeepForOurFuture"), Brianne O'Donnell (who concludes "humanity is doomed"), Ron Casalotti (who worries "I hope people don't confuse him with famous designer Stella"), Dan Rosenbaum (who quips "heard he used to have a couple of bands"), Hollywood Highlands, Sara Graham, Jackie Brahney, Brian Gallagher and Julie Jarratt for getting that correct, as well.
As for today's question, here it is: A recent Washingtonian article reveals there's a town where no one can use cell phones, public wi-fi, or other kinds of modern technology. Which town is that, and why does the problem exist?
Click here
to
submit your answer to @MuckRack
. If you choose not to click that link, please include the word "answer" in your tweet so we can find your contribution quickly (the link will automatically do so for you)! And remember, you must spell your answers correctly to be counted. We'll announce the winners tomorrow!