Politics gone completely postal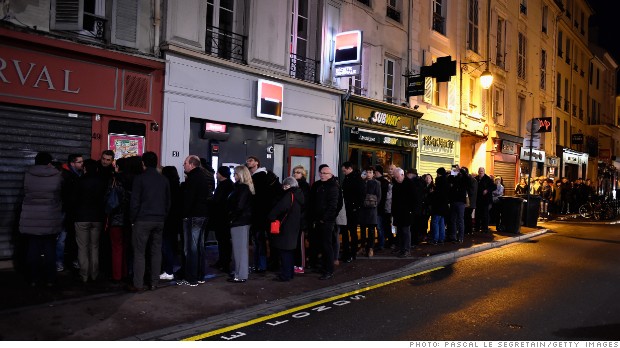 "Je suis SOLD OUT! The latest on #CharlieHebdo's return to newsstands," tweets CNN's Brian Stelter, not long after posting that the new Charlie Hebdo was on sale in Paris (2,000+ shares). "Charlie Hebdo lives," Stelter continues, adding, "Long lines at some newsstands in Paris this morning." There's some sad irony there, however, because within the same day, infamous French comedian Dieudonné was arrested over a Facebook post sympathizing with one of the Paris gunmen (5,000+ shares). "Didn't take long for the French enthusiasm for free speech to dissipate," notices journalist Jack Mirkinson. "I look forward to Charlie Hebdo satirizing the French authorities who arrested a comedian over a Facebook post," declares MSNBC's Jamil Smith. Meanwhile, New York Times public editor Margaret Sullivan concedes that news value should have prevailed on their decision not to re-publish the Hebdo cartoons (600 shares).
Elsewhere in politics, Jason Law has the scoop that John Boehner's bartender at a country club planned to poison him because "he's the devil" (8,300+ shares as of this morning)."He does have a reddish hue," points out columnist Michael Cohen. "I jest, but this really does put into perspective the language of those 'Conservatives Plot to Oust Speaker' stories," reflects Roll Call's Matt Fuller. "The man did, however, have lots of weapons, highlighting (yet again) the need of better gun laws re: the mentally ill," notes Mashable's Brian Ries.
In other politics that defy belief, we present to you this anti-feminist party standing for parliament in the UK's general election (9,000 shares). "Oh you are really spoiling us. An anti-feminist party called 'Justice For Men And Boys'? WIN WIN WIN," Katie Martin with the Wall Street Journal tweets in delight. But the Brits don't have a monopoly on the crazy. In the U.S., a 57-year-old politician in the middle of a six-month jail term just won a special election to Virginia House for the very seat he's supposed to be vacating. "This is a real story because you literally can't make it up," explains Talking Points Memo's Sahil Kapur. Compare and contrast with this Rep. Randy Weber, who just apologized for comparing Obama to Hitler in a tweet about Paris.
And this is the political environment where Rand Paul wants to steal the 2016 spotlight? He has some competition, because Mitt Romney is starting to outline rationale for a third presidential campaign--but the G.O.P. is torn on him, and, even worse, he's lost the vote of that Romney Face tattoo guy (1,200+ shares). "Nothing lasts forever. Except tattoos," muses Meg Wagner with the New York Daily News. But NYT's Farhad Manjoo offers a different take: "I kind of think Romney comes out ahead here,"
Turning our eyes abroad again, Russians hurt by the recent rubel crisis have dropped their Swiss vacations for holidays at home (400 shares).