Your handy State of the Union round-up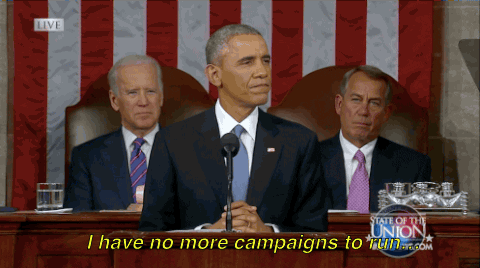 "President of the United States of SICK BURNS," is what Dave Itzkoff with the New York Times dubbed Obama on Twitter, after Vining those now famous words: "I have no more campaigns to run ... I know, because I won both of 'em" (which collected a remarkable 23,800+ shares). In the process, Obama managed to zap the GOP, whose ad-libbed addition after the pause caught them mid-clap as they were applauding the first part of the sentence. At first, Brian Stelter with CNN was not a fan: "If you wanted the media coverage of this #SOTU to concentrate on policy, 'I know because I won both of them' is not what you wanted" but later back-tracked: "Maybe I was wrong about this … I'm hearing a whole lot of substantive conversation on cable. Not much 'I won' talk." Well, we're talking about it, Brian, so you were half right!
Here are Obama's remarks as prepared for delivery (31,500+ shares) as well as NPR's transcript for the actual speech (3,300+). You can even read the entire State of the Union in Emoji, thanks to someone at The Guardian with a lot of time and possibly after a lengthy bout of the SOTU drinking game (2,000+). As for the actual content of his speech, Obama urged a skeptical Congress to back initiatives, claiming credit for an improving economy (8,000+ shares). The Associated Press was quick to fact-check this, calling it an incomplete recovery (12,600+ shares).
Moreover, this year's Obama speech was the first to invoke the word "ironic" and, more importantly, "Lesbian," "Bisexual," and "Transgender."
It was also The Onion's time to shine, zeroing in on their favorite target with "Biden's Buffalo Wing Challenge Dinner Not Sitting Too Well" (22,000+) and "Biden Arrives Early To Set Up State Of The Union Fog Machine" (garnering an even more amazing 68,000+). And remember yesterday's NYT profile on Obama's speech writer? Well, Gawker's Alex Pareene didn't like it, it seems.
And let's not forget the GOP rebuttal by Sen. Joni Ernst ... the script for which, by the way, was confusingly posted in advance of Ernst's delivery under the headline "EMBARGOED" (150 shares). "Okay all of America. Please follow this embargo, ok?" quips MSNBC's Benjy Sarlin. "CNN's Van Jones and S.E. Cupp praising Joni Ernst for not making a total fool of herself… so that's the bar?" wonders Politico's Dylan Byers, who then jokes, "'…and one more thing: LIVE FROM NEW YORK IT'S SATURDAY NIIIIIGHT' — Joni Ernst. No, no. I'm kidding." The GOP responses sent mixed signals on immigration, with Ernst making no mention of it while in contrast, the Spanish-language version delivered by Florida Rep. Carlos Curbelo claimed Republicans wanted to work with Obama to fix immigration. "Curbelo says House leadership saw his remarks in advance and had no problem with them," reports NYT's Maggie Haberman.
There were some light-hearted moments here, too, though: Mary Bruce with ABC News teases, "Bet you can guess Sen. Marco Rubio's advice for Sen. Joni Ernst on the #SOTU GOP response..." And fans of "The Good Wife" were rewarded with a sort of SOTU Easter egg when they recognized Michelle Obama's SOTU dress (1,200 shares).
That Biden, tho: the VP revealed "there is a chance" he might challenge Hillary Clinton for the 2016 nomination. Meanwhile, surveilance cameras at the Biden house have provided no clues about the gunshots heard nearby recently. National Journal's Ben Pershing worriedly tweets, "Should we know this? -> Security system at Biden's Delaware home has long record of problems."