Happy Groundhog Day, everyone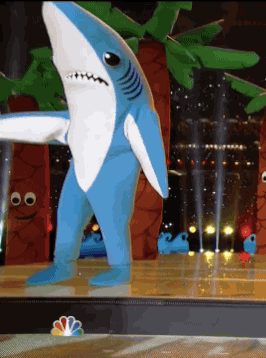 "RT if you gon left shark your way through work today," tweets user @kidnoble (which people then delightedly retweeted), referring to this Vine of Katy Perry dancing with sharks at yesterday's half-time show (which earned 133,000+ incredible shares). In a nut shell, one of Katy Perry's Super Bowl sharks knew the dance and one simply didn't care. "The shark on the left gives 0 effs," concludes Shawn Reynolds with RTV6 Indianapolis. "Distinct possibility that the shark on the left was Lt. Frank Drebin," proposes Deadspin's Daniel Roberts. Rosie Gray protests, "this begs the question: did the shark on the left f**k up? it doesn't seem to have the choreography down pat?" And in case you thought we couldn't get any more analytical about a pair of dancing props, the Washington Post published an investigation into these gyrating Jaws.
But, oh, right, there was a game yesterday surrounding that Katy Perry show, wasn't there? And Boston Globe's Shalise Young got the pleasure of reporting on the Patriots beating the Seahawks in the Super Bowl (4,700+ shares), where the Pats snatched victory from the 'Hawks with a last-minute goal-line stand. You can retrace their path to win via the New York Times' live blog or how it played out on Twitter.
In a wonderful display of good sportsmanship, Hawks cornerback Richard Sherman was actually the first person to congratulate Pats QB Tom Brady (57,000+ shares). It's a shame, because Sherman apparently played Super Bowl XLIX with torn ligaments in his left elbow and now he may need Tommy John surgery, or at the very least some kind of elbow surgery (15,000+ shares). "If this is true about @RSherman_25, devastating for Seattle. Makes today's loss even more painful for SEA," realizes ESPN's Jemele Hill.
The Onion brings us back to a place of levity, however, with their new headline "Fingerprints On Lombardi Trophy To Be Used In Dozens Of Criminal Investigations" (50,000+ whopping shares). And in our favorite part of the evening (ads), the little lost dog was the other winner of the evening while the loser was undeniably that depressing Nationwide ad. CNN's Brian Stelter reports that it was meant to be jarring or something.
But before we all revel in the afterglow of yesterday's festivities, may we be the first to remind you that Punxsutawney Phil saw his shadow, and that means six more weeks of winter. See, we did get back to working in our headline.