Political ledes you must read to believe
"Washington has always been more 'Veep' than "House of Cards'," writes Ben Terris, who just let it be known that Rep. Aaron Schock has a "Downton Abbey"-inspired office, yet he won't talk about it (7,200+ shares). We remain dubious the Dowager Countess would approve. Furthermore, as Irin Carmon with MSNBC points out, "Clearly the best way to make any story go away is to try to get a reporter to delete photos from their phone."
The best part has to be the frantic attempts by Shock's office to prevent Terris from telling the tale. Mic's Greg Krieg shared a quote from the article and an observation: "'Surely, it wouldn't be fair for you to write about his office until he has the chance to see it.' Sounds so Downton!" Matt Vise with the Boston Globe remarks, "Rep. Aaron Schock could have come across looking like hipster cousin Lady Rose. Instead, he's more of a Lady Edith."
So why would Schock do something so worthy of commentary, yet shy away from the publicity? Carrie Levine with the Center for Public Integrity zeroes in on the problem: "Besides asking who paid for Aaron Schock's office renovation, can he accept free services from the designer?"
The New York Times reports that New Jersey governor Chris Christie harbors a fondness for luxe benefits when others pay the bills (6,700+ shares). "Chris Christie's beer guy image masks his champagne tastes, when others pay. Great report from @kzernike & @mikiebarb," praises colleague Amy Virshup. BuzzFeed offers up a saddening scoop that former First Lady Nancy Reagan turned down friend Rock Hudson's plea for help just weeks before he died (~5,000 shares). "Great story from @chrisgeidner detailing previously unknown instance of Reagan White House's indifference to AIDS," elaborates Business Insider's Hunter Walker.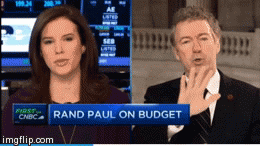 As the vaccination brouhaha broils on, Sen. Rand Paul tells CNBC's Kelly Evans to "shh" and "calm down" while insisting that vaccines should be voluntary (~ 4,000 shares). "Well that's one way to court women voters, Rand," reacts National Journal's Marina Koren. Here, have a gif. It's really never a good time to shush a grown woman, but the senator wants you to know he's still a "big fan" of vaccines! "I'm also 'a big fan' of the smallpox vaccine, though only the original lineup and the later albums were subpar," jokes Wall Street Journal's Ted Mann.
Also, did you know parents "own" their children?
This is when BuzzFeed's Katherine Miller steps in to wake up Republicans to the fact that they're pandering to the wrong fringe (1,100 shares). "Reminder from @katherinemiller: Anti-vaxxers aren't generally rural conservatives—they're educated, affluent liberals," colleague McKay Coppins spells it out. Cue the best editorial cartoon of the day, care of Emily Flake. After these shenanigans, clearly the only person who can save the Republican platform is Pitbull.
Before we run out of time, here's a few trending business headlines you need to know: in opposite world, Google tries to get into Uber's taxi business, while Uber tries to get into Google's self-driving car business. Who will win? Definitely not the drivers. Brad Gerick with New York Daily News dryly notes, "@Uber loves its drivers so much it wants to build driverless cars." The end draws near for RadioShack, while Amazon considers buying some of their stores. Finally, Staples and Office Depot talk merger (we had trouble telling them apart, any way).