Headlines to heed and read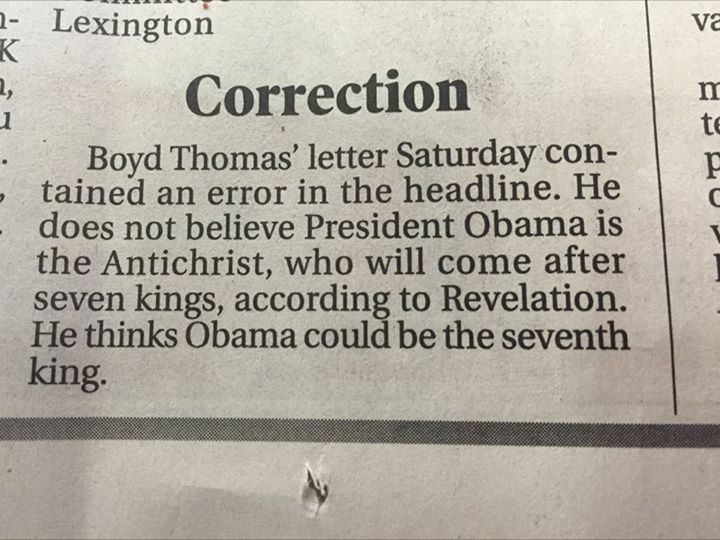 "Correction of the weekend. BREAKING: President Obama is not the Antichrist," tweets Amy Resnick with Pensions and Investments Newspaper, after the Lexington Dispatch printed a clarification on a headline they'd written to go with a reader's letter (~5,000 shares); apparently the reader does not think Obama is the Antichrist, but rather "the seventh king" who comes before the Antichrist. Well, thank goodness we cleared that up? "Accuracy matters," points out Brian Taff at WPVI ABC Philadelphia.
We thought we'd start on that lighter newsy note, before we bust out all the heavier ones. Even after a weekend break, we are all still collectively mourning David Carr, whose "Last Word on Journalism" was just published in the New York Times (3,500+ shares). "One last #newyorktimes byline for #DavidCarr," notes KSBY-TV's Caroline Lowe. "His #BU curriculum is turned into his last Media Equation column: David #Carr as a Passionate Professor," elaborates NYT's Thomas Feyer. An autopsy reveals that it seems it was complications from lung cancer that took Carr from us too soon.
In other posthumous publishing, CBS News shares what was fearless correspondent Bob Simon's last assignment: ZMapp and the fight against Ebola (600+ shares).
In even heavier headlines, a recent Islamic State video allegedly shows the beheadings of 21 Egyptian Christians, signaling the first time IS has executed prisoners outside Iraq or Syria (7,000+ shares). Also, "Unlike the cellphone videos of Libya militants, it has slo-mo, aerial footage & the quick cuts of a music video," observes Jerome Starkey with The Times. "Mass murder against the rhythm of waves hitting the beach. Islamic State investing in production values," reacts ProPublica's Ryan Gabrielson. Egypt wasted no time in a response, saying it bombed ISIS targets in Libya after the killings (4,000 shares). "And here is video of Egypt's first military intervention outside its borders since, I suppose, the '90-'91 Gulf War," reveals David Kenner with Foreign Policy Magazine.
Elsewhere in foreign affairs, the CIA is said to have bought and destroyed Iraqi chemical weapons (2,400 shares). Meanwhile, Israeli prime minister Benjamin Netanyahu is urging the "mass immigration" of Jews from Europe (2,600 shares). "More than 7,000 French Jews migrated to Israel in 2014, double the number from the year before," notices WDET's Martina Guzmán. And in Russia, fearing subservience to China, president Vladimir Putin casts a wider net in Asia for new allies (1,200 shares).
In weather, snowfall is already making an impact on Boston (1,000+). Meterologist Jim Cantore with Weather Channel is having a bit too much fun with the thundersnow, as Winter Storm Neptune intensifies off the New England coast. "#THUNDERSNOW!! It was a great day at the office !! #5 while ON-AIR & 6 times this morning in Plymouth, MA YES BABY!" he tweets. "I wish I loved something as much as @JimCantore loves thundersnow," admits WSB TV Atlanta's Brett Rosner. "This has to be the winter version of double rainbow," concludes Engadget's Matt Brian.