Homebrewed headlines for today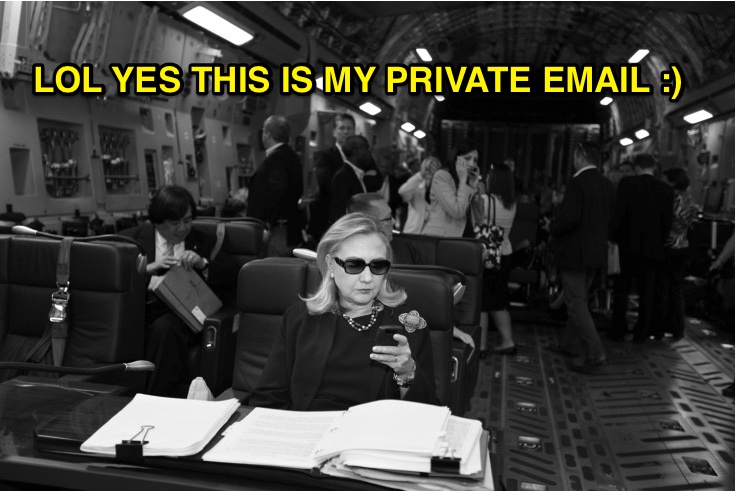 It "brings new meaning to being cyber security president," points out Cook Political Report's Amy Walter, as the Hillary political plot thickens further with news that she may have gone so far as to run a homebrew computer system for official emails (~3,000 shares)--or so the Associated Press is inclined to believe. "Hillary Clinton offers another breakthrough possibility. Our first IT manager president," helpfully suggests CBS News' John Dickerson. Although Micah Sifry of TechPresident.com argues, "AP story doesn't prove HRC ran 'email server' from her home, only that her domain was registered to that address." It all comes down to this: "Who is Eric Hoteham, mystery identity registered Clinton's private email server at her family's Chappaqua home?" asks Ted Bridis from the AP's investigative team.
The bottom line is that in using private email, Clinton thwarted record requests for Benghazi and more (~5,000 shares). "It's weird but this actually exposed a really important transparency issue," admits Stephen Smith. "Congressional investigators couldn't access certain State Dept. Benghazi docs, bc they were in HRC's private inbox," elaborates Law360's Paul DeBenedetto. What's more, it looks like top Clinton aides may have used secret email accounts, too, if Gawker is to be believed (1,000+). "An email sent to huma@clintonemail.com went through without bouncing, according to @jktrotter," shares political reporter Gideon Resnick. At the very least, Clinton's transgression is contrary to "very specific guidance" of the Obama administration.
Who else is having a bad day? Surely Ben Carson, after claiming prisons prove being gay is a choice (11,000+ shares). Huffington Post's Samantha Lachman counters, "Ben Carson proves being dumb is a choice (groundbreaking neurosurgeon... capable of these opinions...)." We'd wager Ferguson police aren't having a banner day, either, now that the Justice Department's review has declared a pattern of racial bias there, which is actually putting it too nicely (24,000+ shares). Washington Post's Wesley Lowery sarcastically points to a "v funny joke circulated via email among Ferguson Pd and city officials in 2008."
We also have to place worker's compensation benefits in that "not doing so hot" category, as ProPublica reports states have steadily gutted them over the years (1,600 shares). Meanwhile, American companies are stashing $2.1 Trillion overseas to avoid taxes.
Who's happy today? Possibly Jeb Bush, who's so "awash in cash" he's actually asking donors to limit gifts to $1 million--for now, anyway (~200 shares). And maybe even Edward Snowden, whose lawyer says he's in talks on returning home (2,100 shares). "Paging Admiral Ackbar," tweets HuffPo's Nick Wing.
As for amusing anecdotes, Katy Perry's Left Shark has officially jumped itself and Bank of Canada really wants everyone to stop Spocking their currency (which admittedly makes us a little sad).